24 April, Monday, 2 PM, Kaszás Attila Room
WORKS OF DOSTOEVSKY ON STAGE
Film screening, discussion
14:00 – 15:10, Film screening
A screening of the documentary film Raskolnikov Meets the Crocodile
In 2016, the Alexandrinsky Theatre in Saint Petersburg and the Budapest National Theater, which had already enjoyed close ties, opened a new chapter in their relationship. The artistic directors of the two institutions came to the unique decision to do productions in each other's theaters at roughly the same time and with the same time for rehearsals. In order to ensure that the parallel would be strong from an artistic perspective as well, they both choose a prose work by Dostoevsky and brought it to the stage. Valery Fokin chose The Crocodile, a "fantastic" and lesser-known short story that Dostoevsky wrote in his youth. Attila Vidnyánszky, in contrast, chose the most famous, most provocative, and even today perhaps most inspiring of Dostoevsky's works, the novel Crime and Punishment.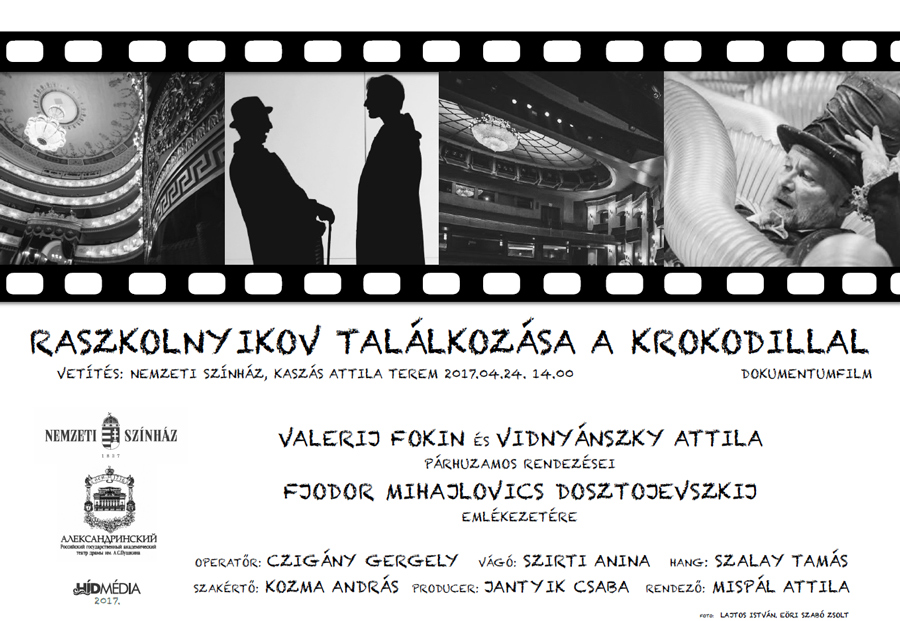 The documentary film offers a glimpse into the processes of rehearsal that were taking place at the same time in Saint Petersburg and Budapest. It gives the creators of the productions chances to speak about their work, and it offers sketches of the most important ideas of the compositions on which the productions are based. It also presents the "original" sites of Crime and Punishment, which have been important points of orientation in the cityscape of Saint Petersburg since the publication of the novel. It pays tribute to Feodor Dostoevsky, who to this day remains one of the most influential writers in world literature.
Raskolnikov Meets the Crocodile
Cinematographer: Gergely Czigány
Sound engineer and technician: Tamás Szalay
Editing: Anina Szirti
Translator and interpreter: András Kozma
Producer: Csaba Jantyik
Screenwriter-director: Attila Mispál
Híd Média Kft - 2017

The documentary film is in Hungarian and Russian, and the screening includes subtitles
15:30 – Roundtable discussion
Following the screening, we will have a conversation about the reception of Dostoevsky in Hungary, the reception of The Crocodile and Crime and Punishment, and the importance of the ties between the two theaters.
Participants in the roundtable discussion:
Edit V. Gilbert of the University of Pécs, Alexander Chepurov, professor at the Saint Petersburg Theatre Academy, director Valery Fokin, and director Attila Vidnyánszky.
Invited speakers: Dr. Nina Király, Ágnes Pálfi (Szcenárium).
Moderator: András Kozma
Pre-registration: szervezes@nemzetiszinhaz.hu
(11 March 2017)