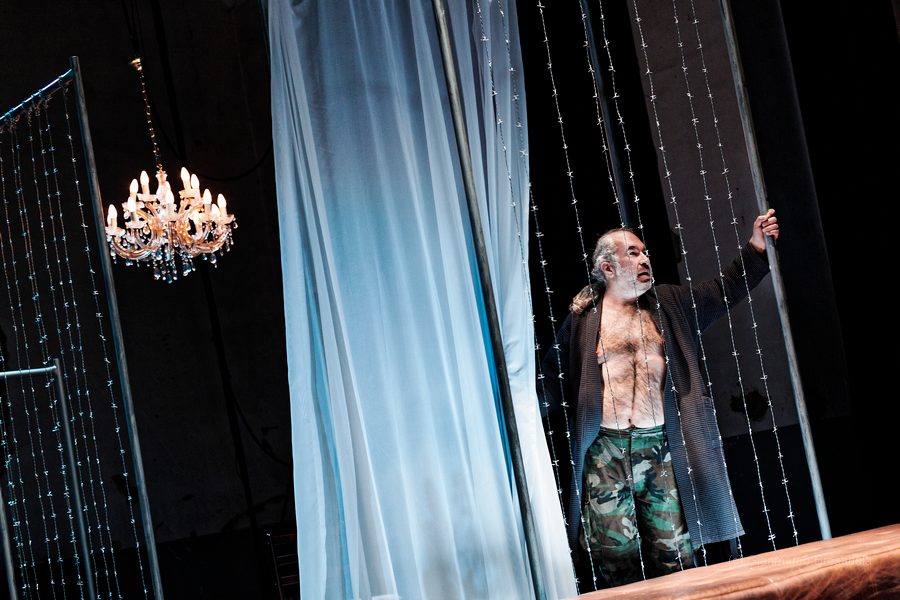 Theater an der Ruhr - Collective Ma'louba, Mülheim an der Ruhr, Germany
Director: Rafat Alzakout
Performed in Arabic with Hungarian and English subtitles.
1 hours 30 minutes, without breaks.
In his new play "Your Love is Fire" the Syrian author Mudar Alhaggi processes his personal experiences of the war in Syria, the loss of his home country and being exiled in Germany. The title is based on the song of the same name by Egyptian singer Abdelhalim Hafez. It stands for the era of arabic pop music of the 60ies and the longing for seemingly safe times of the past. Neither hero nor victim story, it portrays the behaviour of those in present Syria – who wait silently – in a tragicomic manner. The ambivalence of a need for action while only being able to wait shapes the attitude towards life of many who fled to Germany or Europe, but especially that of Syrian artists. The project puts the flight experiences of artists into the context of the Syrian conflict, choosing a singular and subjective Syrian perspective.
The story
The scene of the action is a small apartment in war-torn Damaskus, a district close to the front. The two friends Hala and Rand live here. The storyline unfolds over the course of a single night, sometime in the year 2014 or 2015. Hala tells Rand that she will leave Syria because of the war and go to Germany. Rand is desperate. Because of her love affair with Khaldoun, who performs his military service as a soldier at the check points of the Syrian regime army, she can't leave Damaskus, nor does she want to. In that situation Khaldoun appears. He got a 48 hour leave and wants to see Rand after long months of waiting to be together again. But the outbreak of violent conflicts in the district bring a sudden end to the romantic night to be, as Hala is stuck in the apartment and the three are forced to spend the night together. When their discussion becomes increasingly heated over the course of the night, the text suddenly stops. The author becomes part of his own play, he even appears to have an intimate relationship with his character Hala.
With the characters he created he discusses his inability to finish the play, his weariness and forlornness - because he is writing the play in a refugee camp in Germany, in exile. Instead of the desired feeling of arriving to start a new life, he feels lost, alone and alienated - no place, nowhere. As he is stuck in a state of waiting, he lets his characters linger in their conflict without a clear ending – just as Syria and its people are damned to linger, facing an uncertain future.
Awards of the performance: Lustrum Award, Edinburgh Fringe 2017
Actors:
Amal Omran – Rand
Luna Aboderhmen – Hala
Mohamed Alrashi – Khaldoun, the Soldier
Mouayad Roumieh – the Author
Assistant: Carina Bangert
Translation: Sandra Hetzl / Nicalo Abbas
Production Management: Christin Lüttich / Immanuel Bartz
Production: Christin Lüttich
Sound Design: Carola Schmidt
Light: Jochen Jahncke
Video Art: Carola Schmidt / Juma Hamdo
Costume designer: Emilie Cognard
Stage designer: Emilie Cognard
Dramaturge: Wael Kadour