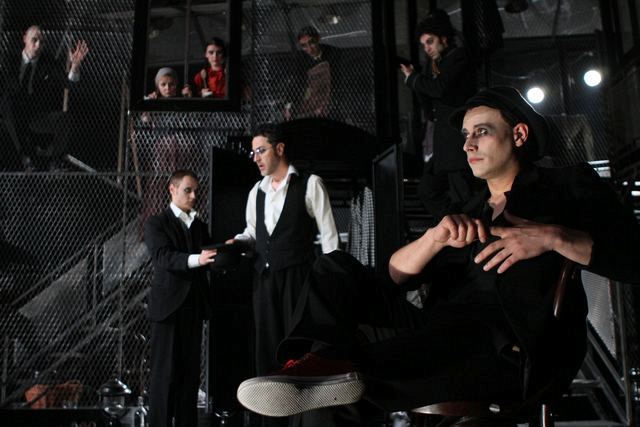 MITEM
Director: Dabija Alexandru
MITEM
1 hours 15 minutes, without breaks.
In 2012, the program of the National Theatre in Bucharest featured all the plays of I. L. Caragiale in honour of the great Romanian playwright's centenary (the 100th anniversary of his death and 160th of his birth). Indeed, two additional shows were created – a dance performance featuring typical Caragiale characters and the stage adaptation of his short story "Two Lottery Tickets". The latter received two prestigious professional awards. UNITER named Alexandru Dabija the best director of 2013, while Helmut Stürmer earned the distinction for best set design. The Bucharest National Theatre was awarded a special prize for its Caragiale Year program series. One critic described the performance as "ruthless, provocative, dazzling, at times exhausting, but enchanting". According to another rave review, "Helmut Stürmer's extraordinary set brings the director's vision of a theatrical 'film' to life." Dabija's direction is faithful to the spirit of the author, while showcasing Caragiale's tale onstage in a new theatrical guise.

CAST:
ANA CIONTEA, CORINA MOISE / ILONA BREZOIANU, ELIZA PĂUNA – The Whitewashers
NICOLETA LEFTER / VALENTINA ZAHARIA – Mrs. Popescu
GAVRIL PĂTRU – Mr. Lefter Popescu
MARIUS MANOLE – The Storyteller
MĂDĂLIN MANDIN – Captain Pandele
DANIEL HARA – Police Inspector Turtureanu
MIHAI MUNTENIŢĂ – Mr. Georgescu – The Boss
EDUARD CÂRLAN / AXEL MOUSTACHE – Mitica / The Usher
IONUŢ TOADER – The Newspaper Boy
DRAGOŞ DUMITRU - The Banker
MARCEL BĂLĂNESCU –The Executioner-Policeman
……………………………………………………………………………………………………………….
Directed by and musical illustration: Alexandru Dabija
Set design: Helmut Stürmer
Costumes: Liliana Cenean
Stage movement: Florin Fieroiu
Light design: Helmut Stürmer and Georgiu Stan