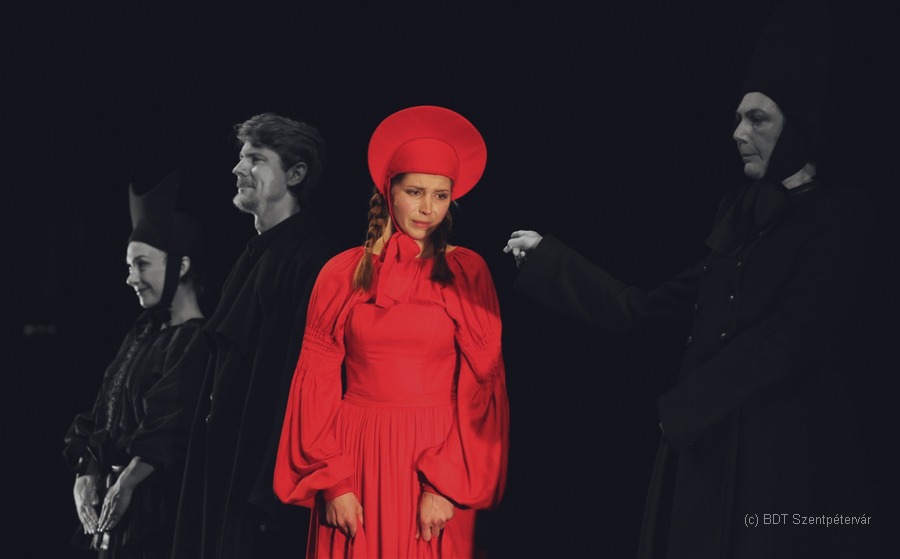 Tovstonogov Bolshoi Drama Theatre (BDT), Saintpetersburg, Russia
Director: Andrey Moguchy
Performed in Russian with Hungarian translation.
2 hours 15 minutes with 1 breaks.
With the support of Ministry of Culture of Russian Federation.
Russia, the 19th century. The provincial town of Kalinov lives in keeping with its austere and fixed religious laws, which have remained intact for centuries as Old Believers' traditions. The citizens of Kalinov are constantly at prayer, they detest innovations, and they believe that a thunderstorm is a form of punishment administered by God for human sins such as adultery. In fact, just a century earlier people were being executed for such crimes.
Katerina, the leading female character, has been brought up in an atmosphere of love and liberty. Now, married to the merchant Tikhon Kabanov, she feels imprisoned. His mother, Marfa Kabanova, dislikes Katerina and is jealous of her. Tikhon remains aloof and gradually falls into an alcoholic abyss.
Everything changes after the appearance of Boris, an educated young man from Moscow, a nephew of the awful, greedy merchant Dikoy. Katerina falls in love with Boris. As soon as Tikhon leaves town on business, Katerina and Boris start seeing each other. However, her sincere nature pushes her towards confessing to her husband and mother-in-law. Her life becomes insufferable. She escapes and meets Boris again, who tells her his uncle has ordered him to leave for Siberia. Katerina commits suicide, jumping from a cliff into the Volga River.
Actors:
- SAVEL PROKOFIEVITCH DIKOY, a merchant, important person in the town: Dmitry VOROBIYOV (Honored actor of the Russian Federation) / Sergey LOSEV
- BORIS GRIGORIEVITCH, his nephew, a young man of good education: Alexander KUZNETSOV (soloist of the opera troupe of the Mikhailovsky Theatre) / Petr ZAKHAROV (soloist of the Petersburg-Concert philharmonic)
- MARFA IGNATIEVNA KABANOVA (Kabanikha), a rich merchant widow: People's Artist of the Russian Federation Marina IGNATOVA
- TIKHON IVANITCH KABANOV, her son: Alexey VINNIKOV / Dmitry MURASHEV
- KATERINA, his wife: Victoria ATRIUKHOVA
- VARVARA, Tikhon's sister: Nina ALEXANDROVA / Varvara PAVLOVA
- KULIGIN, a man of the artisan class, a self-taught watchmaker, engaged in trying to discover the secret of perpetual motion: Honored Artist of the Russian Federation Anatoly PETROV
- VANIA KUDRIASH, a young man, Dikoy's clerk: Honored Artist of the Russian Federation Vasiliy REUTOV
- SHAPKIN, an artisan: Victor KNYAZHEV / Dmitry MURASHEV
- FEKLUSHA, a pilgrim woman: Honored Artist of the Russian Federation Maria LAVROVA
- GLASHA, a maidservant in the Kabanov house: Alyona KUCHKOVA / Glaphira LAVROVA
- BARYN'YA, an old lady of seventy, half mad: People's Artist of the Russian Federation Irute VENGALITE
- BEGGAR: Diana SHISHLYAEVA
- TOWNSPEOPLE OF BOTH SEXES, SWALLOWS: Victor KNYAZHEV / Egor MEDVEDEV, Evgeniy SLAVSKY, Olga VANKOVA
Orchestra of the BDT:
Vera IONOVA (piano), Alekszandr ZAHARENKO / Alexander ZAKHARENKO (clarinet), Nyikolaj RIBAKOV / Nikolay RYBAKOV / Jurij ANDREJEV / Yury ANDREEV (bass-drum)
Stage designer: Vera Martynov
Costume designer: Svetlana Gribanova
Composer: Alexander Manotskov
Playwright: Alexander Ostrovsky
Lighting designer-Stas Svistunovich
Director's assistants-Alexander Artyomov,
Svetlana Shchagina
Sound director-Alexey Titov
Musical director-Anna Vishnyakova
Stunt directors-Maxim Pakhomov, Roman Kaganovich