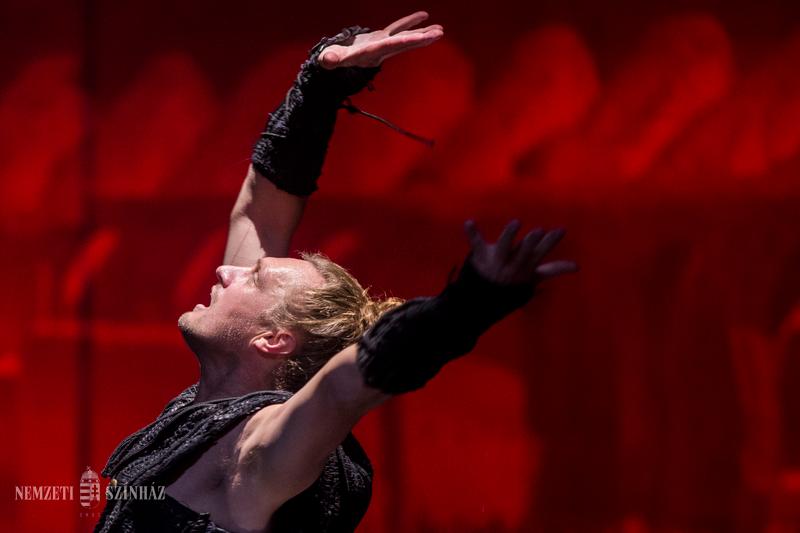 National Theatre, Budapest, Hungary
Director: Attila Vidnyánszky
Due to the show's special start and the custom-built auditorium, the doors will only be opened 5 minutes before the start.
2 hours 50 minutes with 1 breaks.
Attila, King of the Huns is at the pinnacle of his power: he has conquered half the world, but he has not destroyed Rome. Even the Goths submit to him. Gothic Princess Mikolt is seething with hatred and seeking revenge for the killing of her parents and the subjugation of her people. Through clever ruses, she makes Attila fall for her, and kills him on the wedding night. Deep beneath her frenzied thirst for revenge, she harbours a passionate love for him, too. Attila's murder and death are the first and last moment of quenching her lust for vengeance and for a passionate embrace.
If we look at our present, we see millions of migrants drifting from one country to another, from continent to continent, in search for work and a better life. Hundreds of thousands are forced to leave their homes because of wars or hunger, looking to start life anew. In its historical dimension, the dramatic convergence of East and West is repeated one more time. Can we retain our roots and our very selves, or will the pressure force new national identities upon us, for the sake of peace and integrity? This play, however, is not about our present. We propose to put this issue into a historical perspective and discover the role of the individual person, cast into these restless times.
Archimandrite Euthymos, Byzantine envoy
In the Shaman woman's role, Éva Kanalas performs her own songs
Stage and costume designer
Stage manager
István Géczy
István Lencsés
Krisztián Ködmen