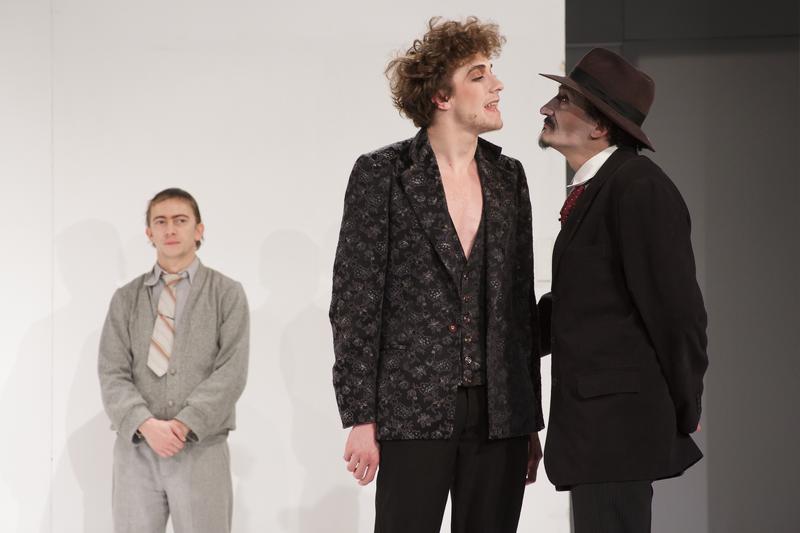 National Theatre, Budapest, Hungary
Director: László Bocsárdi
3 hours with 2 breaks.
This performance is not about docile lambs. Molière's comedy is not
as gauzy as one might expect, but sharp as a blade that barrens people down to their inner incapability to love.
"Of course he loves you truly but he loves money more."
Is there anything in the world that we love more than the security granted by money? If there is, we will laugh in the theatre. If there isn't…
The Tamási Áron Theatre of Sepsiszentgyörgy, mainly because of its transitory position, created its very own artistic profile in the interactive space of two theatrical traditions. It merges the characteristics of the predominantly movement-based Rumanian theatre with the rational realism of the Hungarian acting style. This unique form of artistic expression granted the Theatre of Sepsiszetgyörgy its place among the most valuable, highly acclaimed theatre companies in Hungary and Romania. The company's importance is certified by the various prizes won in national and international theatre festivals, by national awards, and other important professional acknowledgements (UNITER prizes; reviews in theatre journals). The Tamási Áron Theatre has been a host to the REFLEX international theatre festival – a representative theatre meeting of the Eastern-European region – since 2008.
Illyés Gyula fordításának felhasználásával
Az előadás megtekintését 14 éven felüli nézőinknek ajánljuk.
Színészek:
​PÁLFFY Tibor, DERZSI Dezső, PÁL FERENCZI Gyöngyi, MÁTRAY László, BENEDEK Ágnes, SZAKÁCS László, GAJZÁGÓ Zsuzsa, DEBRECZI Kálmán, KÓNYA-ÜTŐ Bence, ERDEI Gábor, MÁRTON Lóránt, NAGY LÁZÁR József, DIÓSZEGI Attila
Díszlettervező: BARTHA József
Jelmeztervező: DOBRE-KÓTHAY Judit
Dramaturg: ZSIGMOND Andrea