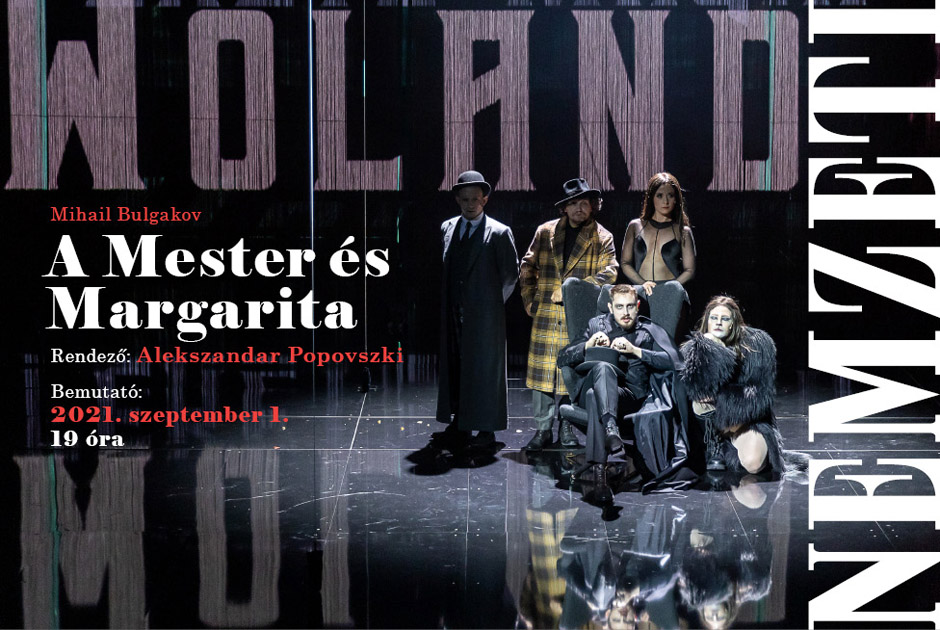 National Theatre, Budapest, Hungary
Director: Aleksandar Popovski
3 hours with 1 breaks.
Though the novel The Master and Margarita was written in the 1930s, during Stalin's iron-handed rule, it could not be published in full until the 1970s. Had it ended up in the hands of the secret police, it would probably have brought death to its author Mikhail Bulgakov. The Master and Margarita is light years away from socialist realism, the literary style of the era made compulsory by state decree.
Ivan Nikolaevich "Homeless" is taken to a mental asylum in Moscow in his underwear, wearing a cross round his neck. He is totally confused. He explains to his doctor that by Patriarshye Prudy, he met the Devil who had something to do with the beheading of his friend Berlioz, editor of a literary magazine and a staunch atheist. But none of the doctors and nurses believes him. Ivan is then secretly visited in his cell by the mysterious Master, who is also a patient and who understands him. What is more, the Master is familiar with the story of Pontius Pilate, the same story the Devil who called himself Woland told Ivan at Patriarshye Prudy. Between them, they act out Pilate's story and Berlioz's death using the props found in the asylum room.
Outside the mental asylum, Woland and company are performing dirty tricks. They use magic to persuade passers-by to follow them. They distribute clothes at the theatre and cause money to fall from the sky. When people leave the theatre at the end of the performance, the clothes disappear, and everyone roams the city naked. The money evaporates, too. People are deprived of their materiality and decency.
According to Margarita, Pontius Pilate found his salvation. The Master, perhaps, dies because of this…
Based on the translation of Klára Szőllősy, text: Ernő Verebes
In other roles
Badics Luca, Barna Lili, Jambrovics Viktória, Virga Tímea, Tóth Nikolett,
Mató János, Székhelyi Dániel, Szigeti Bálint, Vrabecz Botond
Stage design
Numen/For Use + Ivana Jonke
The set designer's assistant
Stage managers
István Lencsés
Krisztián Ködmen