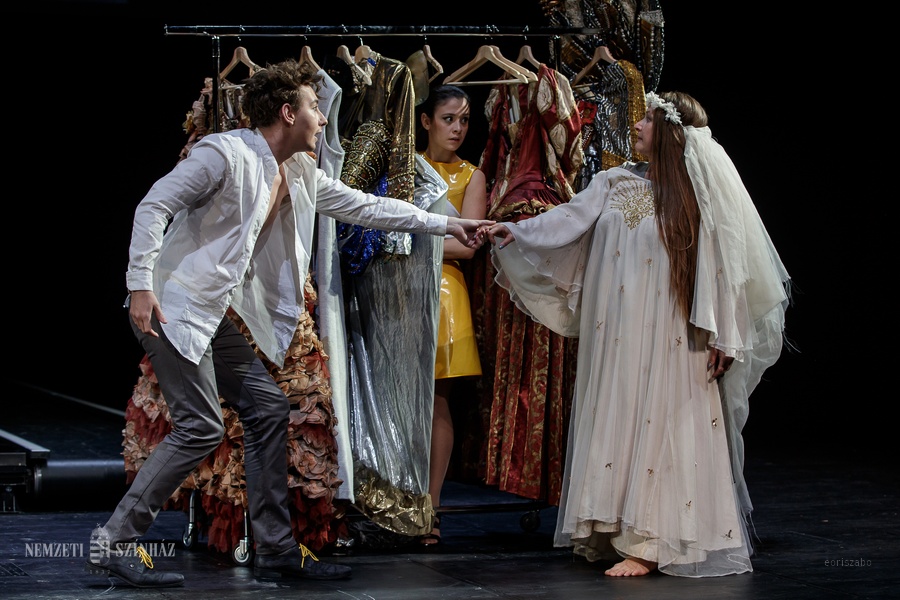 National Theatre, Budapest
Director: Sardar Tagirovsky
At the MITEM in Hungarian with English subtitle
3 hours 30 minutes with 2 breaks.
In a seemingly distant future, Spain has become a major player due to the multinational company A.I.DEN (Eden). The chairman of the company that develops artificial intelligence is a 21st century count. We are at his residence. The count – as everybody else – has his desires and fears. He longs for the fiancée of his secretary, Figaro. He will do everything to get what he wants. The inhabitants of the mansion and the employees of the company revolve around their unresolved desires, one central element of which is Figaro himself. Figaro is like one of those lamps that attract night butterflies and insects only to burn their wings and die longing for the unattainable light.
The performance is about social situations, human plots, theatre, love, poetry, futurology, nostalgia, our current world with a link to the world of Beaumarchais. Many things have happened since. We are currently in a rapidly changing world. We face an unimaginable situation. We are on the brink of an age when we must redefine the very concepts of time and space. Consequently, our past, our roots and our memories gain increased importance. But even during this digital revolution there is couple – Figaro and Suzanne – who opt out of the usual ring of plots and gossip. Thanks to the humour and well-conceived play of Beaumarchais we become part of Figaro's dream, together with him we relive a sliver of the past: we are replaying this crazy day alongside Figaro.
Count Almaviva, Chairman, Eden Company
Rozina Countess, his wife
Figaro, the personal secretary of the count, Eden Co
Susanna, the Count's maid
Marcellina, bio-solar architect, Eden Company
Antonio, the castle's gardener
Cherubino, the Count's page
Bartolo, neuroscientist, Eden Company
Fanchette, Antonio's daughter
Sebastian, MI researcher, Eden Company
Domingo, conscious dreaming researcher, Eden Company
Adam, owned by Eden Company
Eva, owned by Eden Company, Geisha
Stage Manager
Gábor Dobos
István Lencsés