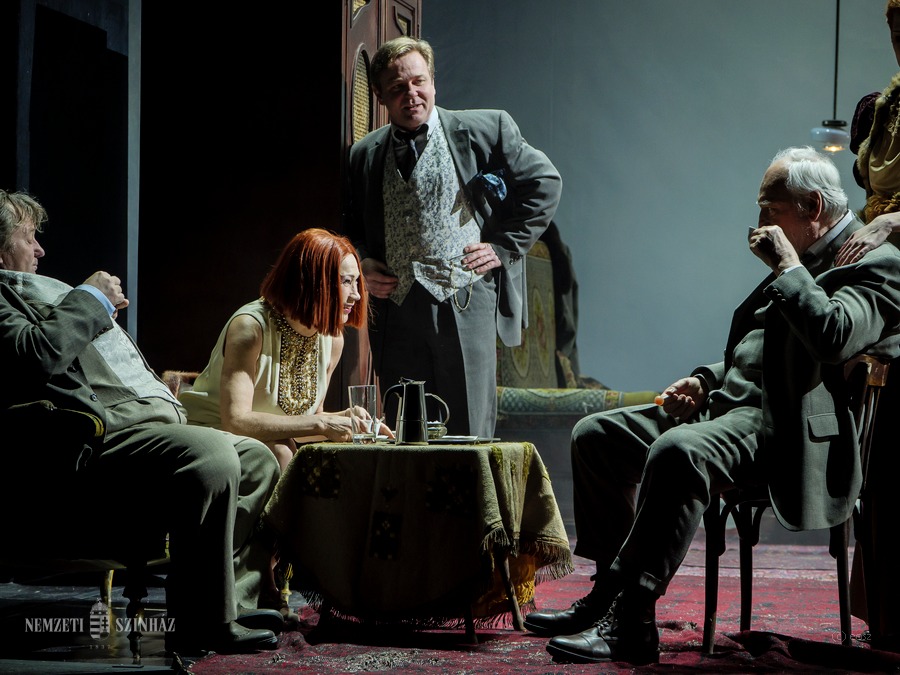 National Theatre, Budapest, Hungary
Director: Silviu Purcărete
2 hours 30 minutes with 1 breaks.
The Cherry Orchard is the painful, moving, and at times even comic story of the auction of an old family estate. Madame Lyubov Andreievna Ranevskaya comes home from Paris to deal with the fate of the land, which to her is an embodiment of her childhood. It is now little more than ruins and memories. Even newborn sentiments of love have the smell of mothballs, though they at least offer hope of survival… The play, which is the last drama by Chekhov, is an allegory for our ephemeral lives. Or is there some other way out? The absurd figures of Chekhov's tragedy "are scattered in all directions in a world which is falling apart." As critic George Banu has written, The Cherry Orchard "is not simply about the inevitable crossing from one world into another, but also about the inability to adapt, which figures as a kind of passive resistance, and the almost unspoken, irrepressible rejection of any attempt to make a mockery out of the values which form the foundations of the identities of the losers." Thus, it remains relevant to our time.
When he was already very ill, Chekhov wrote the following cautionary remarks in a letter to his wife Olga, who was playing the part of Ranevskaya: "Be very careful! You should not have a sad look on your face in any of the acts! You can be angry, but not sad! People who have grappled with sorrow for a long time and gotten used to it simply whistle and often daydream."
The production is under the direction of Silviu Purcărete, one of the great masters of the world theater, who captivated the MITEM audience in 2017 which his adaptation of Faust and is now working together with the actors of the National Theatre for the second time
Translated by Géza Morcsányi
Mrs. Lyuba Ranevsky, landowner
Anya - Ranevksy's biological daughter
Varya - Ranevksy's adopted daughter
Leonid Gayev - Ranevsky's brother
Yermolay Lopakhin - A businessman
Peter Trofimov - A student at the local university
Boris Simeonov-Pischik - A nobleman, and fellow landowner
Charlotte - Anya's governess
Simon Yephikodov, accountant
Dunyasha - A maid on the Ranevsky estate
Firs - Ranevsky's eighty-seven-year-old manservant
furthermore
Alexisz Kecskés e.h.
Dániel Tar e.h.
Stage and costume designer
Stage manager
István Lencsés
Krisztián Ködmen