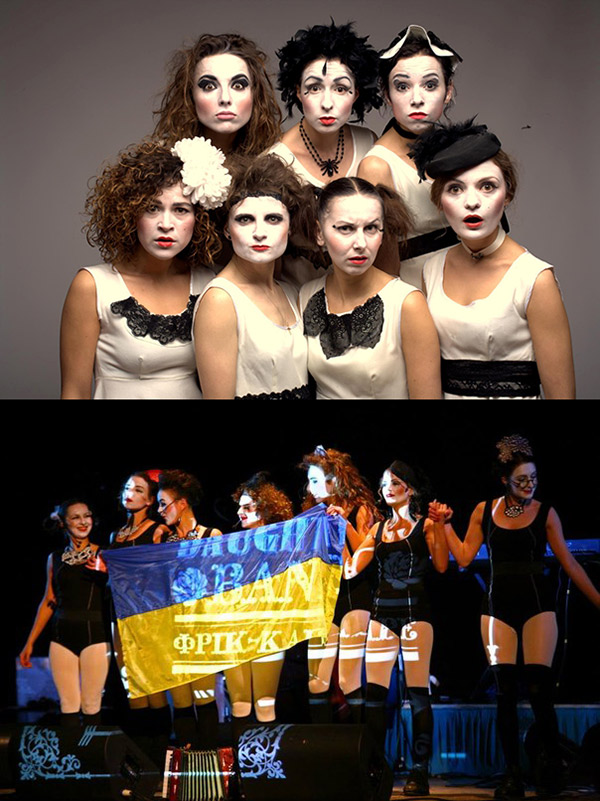 DAKH Centre of Contemporary Art, Kyiv, Ukraine
Director: Vlad Troitskyi
Seven actresses took musical instruments into their hands in order to create life-affirming performance about love, freedom and beauty which at the end of the day – will save the world.
Already well known to the public as actresses of the DAKH Theatre in Kyiv, band members ended up on neutral ground in between musical genre and dramatic art, in the right experimentally-creative space.
Dakh Daughters create an atmosphere of a French saloon, where Mireille Mathieu befriends Marilyn Manson. On occasion, armed with full set of strings, keyboards and percussions, the women shake the audience with a roar, but can swiftly change anger for kindness, turning into fun-loving Hollywood beauties of the 1950's that dream of tropical vacation in the Caribbean.
This unbelievably unique group is ideologically related to the English band – The Tiger Lillies, which has the capability of hyperbolizing characters and involving the public in funny intellectual shows. Song lyrics of these semi-fairytale fairies are based on classical Ukrainian poetry, Nobel-prize winners, their own works and fragments of popular hits of the past.