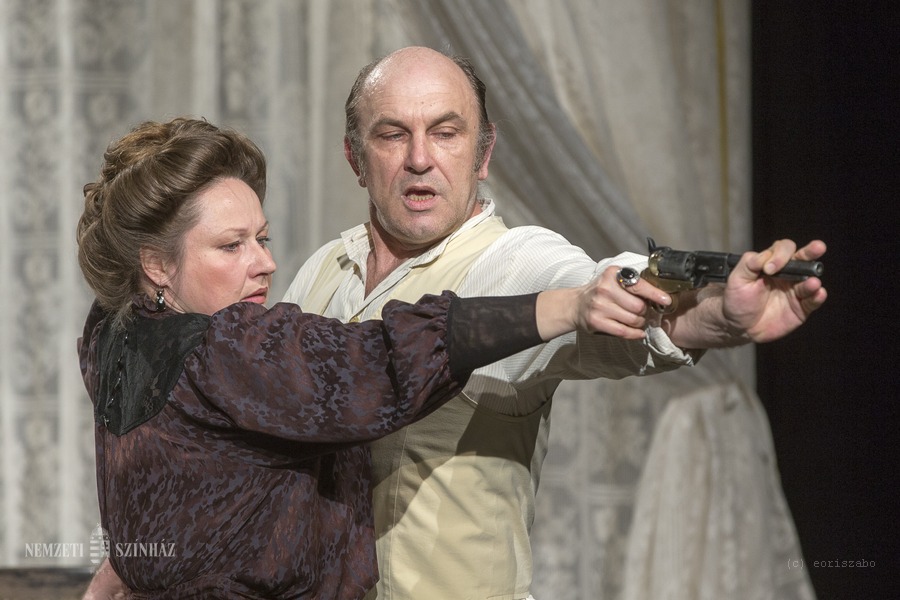 Ukraine • Transcarpathian Regional Hungarian Drama Theatre, Berehove
Director: Attila Vidnyánszky
Performed in Hungarian.
1 hours 45 minutes, without breaks.
I The Bear
Nelli Szűcs plays a reclusive young and all-but-starved widow so delicately and charmingly, without a wink or a nod that, while everyone knows her sighs, grief and entire image are false, they are still taken aback when this self-conscious, then offended and naïve woman "kills the bear" (József Varga) like an amazon.
Zsolt Trill plays an elderly butler, he blends the colours of a wise clown and Firs to create Luka the servant and surrogate father. A rewarding performance by an actor comparable to the best stage clowns in the history of theatre.
II On the Harmful Effects of Tobacco
An incredibly thin pencil-man wearing a tight tail-coat – a scarecrow figure – steps in front of his "audience" to present a serious, pedantic monologue on the evils of smoking. He is like a caricature scientist in the funny papers. The audience roars with laughter during the henpecked husband's soliloquy, then the laughter sours and becomes painful: the helpless, scared little man becomes more and more pathetic, shrinks almost, leaving in the spectator's throat a growing lump whose grip can only be released in tears.
III A Marriage Proposal
Melinda Orosz is an ugly spinster to be married off urgently. This gentle, quiet and polite damsel-of-the-house turns a sharp-tongued shrew crying hysterically. The father and the suitor watch this metamorphosis in horror.
I The Bear
Szmirnov, Grigorij Sztyepanovics
II On the Harmful Effects of Tobacco
III A Marriage Proposal
Csubukov, landed gentleman
Natalja Sztyepanovna, his daughter