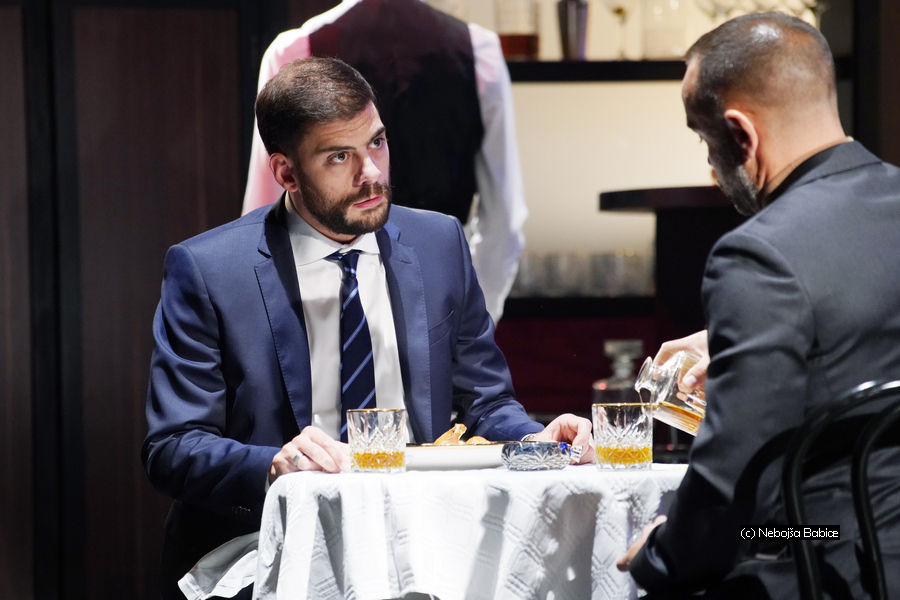 Yugoslav Drama Theatre, Belgrade, Serbia (YDT)
Director: Vito Taufer
Performed in Serbian with Hungarian and English subtitles
1 hours 35 minutes, without breaks.
On OEDIPUS
(Excerpt of conversation between dramaturg, director and YDT artistic director)
Gorčin: And why is Oedipus in a tavern instead of some fancy restaurant?
Vesna: A tavern is more intimate.
Vito: More democratic.
Gorčin: A mixing zone...
Vesna: A mixing zone.
Vito: There we are all equal. Just as Oedipus is first among equals, that is how I understand how he rules which he, of course, rejects once he is wandering through fog seeking truth. And resorts to violence. Renounces basic principles, rationality.
Gorčin: The rational side of him wins out eventually?
Vito: Yes, yes. That's it.
Directed by Vito Taufer
Adaptation by Vesna Radovanović and Marko Manojlović
Dramaturgy - Vesna Radovanović
Set Design - Lazar Bodroža
Costume Design - Marija Marković Milojev
Music composed by Robert Pešut – Magnifico and Aleksander Pešut – Schatz!
Speech Coach - Ljiljana Mrkić Popović
Lighting Design - Siniša Čupić
CAST
Oedipus: MILAN MARIĆ
Jocasta: NATAŠA NINKOVIĆ
Creon: SRĐAN TIMAROV
Tiresias: BOJAN DIMITRIJEVIĆ
Priest: ALEKSANDAR ĐURICA
Choryphaeus: MILOŠ SAMOLOV
Shepherd: NEBOJŠA LJUBIŠIĆ
Messenger from Corinth: ZORAN CVIJANOVIĆ
Court Messenger: JOAKIM TASIĆ
Singer: MARKO RADOJEVIĆ
Deacon: Milan Bobić (final year student at the Academy of Arts in Belgrade)
Bodyguard: Luka Antonijević, Luka Sević, Veljko Stevanović (final year students at the Academy of Arts in Belgrade)
MUSICIANS
Darko Golić (contrabass), Luka Lopičić (accordion)
Organiser - Vladimir Perišić
Stage Manager - Daša Velimirović
Prompt - Maja Stojimirović
Costume Design Assistant - Nikša Tomanović
Lighting Technician - Dragan Arsenić
Sound Operator - Nikola Mijušković