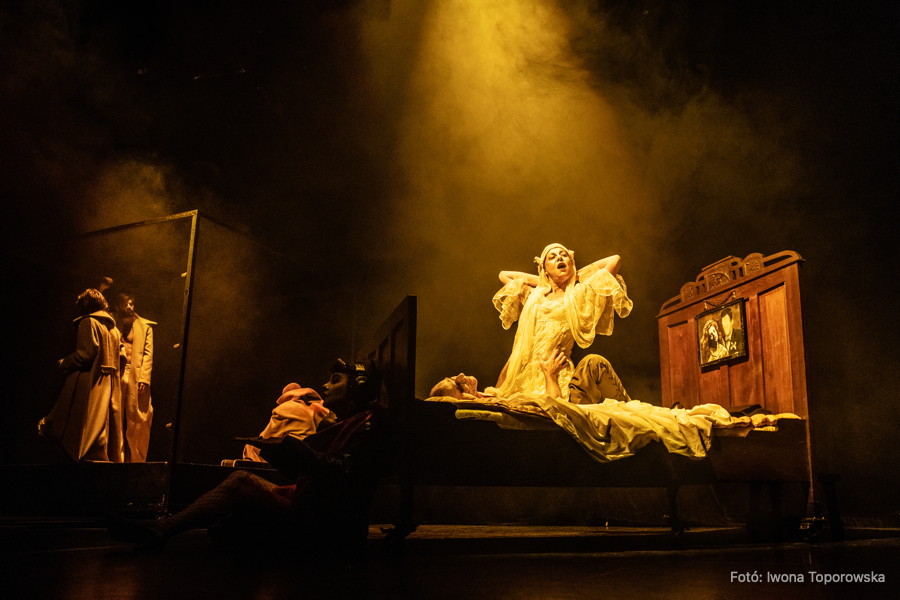 Witkacy Theatre, Zakopane, Poland
Director: Andrzej St. Dziuk
Performed in Polish with English and Hungarian surtitles
1 hours 45 minutes, without breaks.
A performance based on Witkacy's drama, written in 1921 – 7 years after his expedition to the exotic countries together with an ethnographer Bronisław Malinowski – touches the universal problems. There is a young man, trying to discover the truth about his origin and complicated family relationships, he must determine himself in the world full of mental and social limitations. This contemporary discussion about maturation and shaping the personality, about cultural, family and social identities, analyses relations between the process of shaping self-creation of a young person and the limitations set by culture coercion (compulsion) or social discipline.
In the script there were used the excerpts from the text "About Dead Matter" by professor Andrzej Górski and "Murphy's Laws ".
In the performance were used parts of music pieces: "A Three - Legged Workhorse", "Villa Del Refugio", "Threads", "Leather Wings", "The Mighty Rio Grande", "They Move on Tracks of Never - Ending Light" of the band THIS WILL DESTROY YOU "Passacali della vita" Tragicomedia, "Sandstorm" Zakkir Hussain.
Cast and creatives:
Mother: Dorota Ficoń
Mirabella: Emilia Nagórka
DJ Baba: Adrianna Jerzmanowska
Mother II: Joanna Banasik
Karmazyniello (older): Krzysztof Łakomik
Cerberus: Katarzyna Pietrzyk
Jack Rivers: Krzysztof Wnuk
Parvis : Marek Wrona
Mikulini: Andrzej Bienias
Karmazyniello (younger: Piotr Łakomik
Governor: Krzysztof Najbor
King Aparura: Dominik Piejko/Agnieszka Michalik
The Character: Kamil Joński
Stage designer: Rafał Zawistowski
Stage designer assistant: Jolanta Solska
Costume designer: Rafał Zawistowski
Choreographer: Anita Podkowa