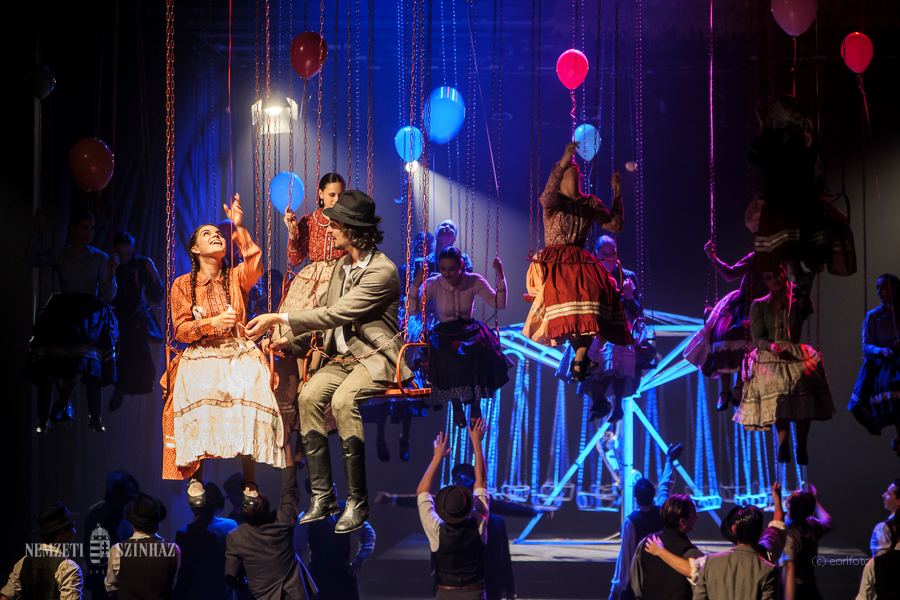 National Theatre, Budapest, Hungary
Director: Attila Vidnyánszky, Zoltán Zsuráfszky
2 hours, without breaks.
Imre Sarkadi– Zoltán Fábri – Nádasy László – Zsuzsa Vincze
Merry-go-Round
Co-director and choreography: Zoltán Zsuráfszky
Directed by: Attila Vidnyánszky
Merry-go-Round, a classic in the history of Hungarian film, is based on a novella by Imre Sarkadi. In 1956, the production by Zoltán Fábri was awarded the Palme d'Or at the Cannes Film Festival. Actress Mari Törőcsik, who played the main role, remembers a remark made by Jean Cocteau, who said that Merry-go-Round is a great film because "it resounds with love." This story comes to life on the stage of the National Theater in a dynamic mix of dance, music, and prose.
Love, land, marriage, financial interest. Which is the most important? The happiness of young lovers or, as has been the law of the peasant world for centuries, the importance of combining lands off of which the new family can earn a living? Love? Can one build a future on the happiness of the moment? Are social law and common sense stronger than two people's desire for each other? "I would like to create a heart-rending, beautiful tale," said director Attila Vidnyánszky. For him, of the personal and social threads of the story, the personal is the more important. The future can be built on the strength and power of love that is fulfilled. The world-famous Hungarian National Dance Ensemble has joined the artists of the National Theater to create a poetic performance that combines prose, dance, and music. Folk dance is part of Hungary's mother tongue, and the dancers bring tremendous energy to the stage: a rhythmic czardas, a Transylvania "szökős" captivate the audience. The production has been an enormous success.
In collaboration with the Hungarian National Dance Ensemble
The participation of the HUNGARIAN NATIONAL DANCE GROUP and its orchestra.
Professional leader: Zsuzsa Zs. Vincze, Harangozó prize winner, worthy artist.
Bari Ildikó, Barka Dávid, Benedek Attila, Bordás Barnabás, Cruz Heather Laura, Csabai József Márk, Csicsmann Dániel, Csiha Linda, Ertl Balázs, Fekete Bence, Gömöri Éva, Gyurka Gergely, Hajdú Flórián, Hetrovicz Brigitta, Husvét Dorina Emerika, István Barbara, Juhász Bence Zsombor, Juhász Sándor, Kerepesi Zoltán, Kovács Gábor, Molnár Sarolta, Oltárczy Mária, Orbán Amanda, Palágyi Fruzsina, Paput Júlia, Payer Dóra, Rab Edina, Rencz Norbert, Sánta Gergő, Simon Lilla, Szabó Kincső, Szabó Marcell, Szél Gábor, Szeverényi Barnabás, Takács Gábor, Tapolczai-Zsuráfszky Lilla, Tókos Attila, Tókos Zsófia, Tomory Kinga, Tompa Attila, Valach Gábor, Wallinger Ágnes

Musicians:
Papp István Gázsa - violin, D. Tóth Sándor - viola, Liber Róbert - double bass, Csávás Attila -
Wind instruments, Takács Ádám - violin, Szabó Dániel m.v. - dulcimer

Musicians performing the recorded music
<p>Balogh Kálmán - Dulcimer<br /> Madarász András - Piano, lute, guitar, drums<br /> Kovács Ferenc - Trumpet<br /> Bede Péter - Saxophone<br /> Rácz Csaba - Chello<br /> Lelkes Tibor - Double bass<br /> Novák Csaba - Double bass</p>
Stage manager
Gábor Dobos
Krisztián Ködmen
Choreographer, Co-Director