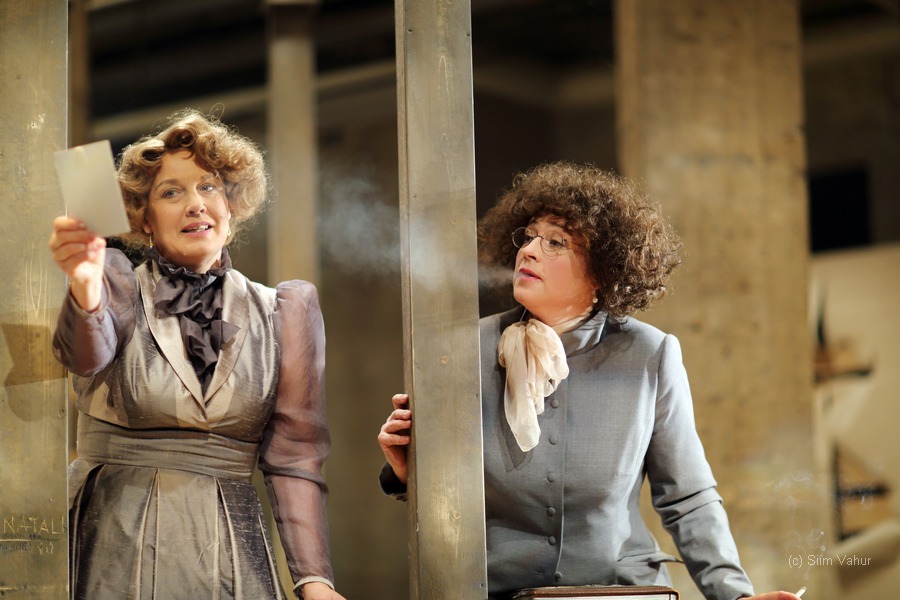 City Theatre, Tallinn, Estonia
Director: Elmo Nüganen
Performed in Estonian, with simultaneous interpretation in Hungarian and English.
2 hours 40 minutes with 1 breaks.
It's a paradox of life that on one hand everything passes, but on the other hand everything stays the same… Two middle-aged ladies, Tania and Varia – an estate-owner's wife and a doctor – write a letter to their childhood friend Kolia, who now works as a lawyer in Moscow, inviting him to spend some time with them in the country. Kolia arrives happily, looking forward to a short vacation, unsuspecting that the invitation had a hidden agenda. Tania's husband Sergei has brought their estate nearly to ruin with his ill-advised business ventures and Tania is counting on Kolia's help in making Sergei see sense and getting them out of the conundrum. Varia, on the other hand, is hoping to revive some tender feelings that she and Kolia once shared. To his surprise, Kolia also discovers that Tania's little sister Natasha has grown up to be a beautiful woman with her own dreams and expectations.
Longing is about longing. About not knowing what to do. About broken hearts. And about life that still goes on despite everything. The British author William Boyd, who based his play on Anton Chekhov's short stories My Life and A Visit to Friends, has managed to catch one of Chekhov's recurring themes – a relentless nostalgia for something or someone, a longing to be somewhere else, someone else or with someone else, without asking oneself, whether you're actually doing anything to change the situation.
The cast:
Peeter Tammearu as Sergei Sergeyevitch Losev, estate owner
Epp Eespäev as Tatiana Alexeyevna Loseva, his wife
Liis Lass as Natasha, Tatiana's sister
Anne Reemann as Varvara Pavlovna, Tatiana's friend, doctor
Rain Simmul as Nikolai Vladimirovitch Podgorin, lawyer
Kristjan Üksküla as Misail Alexeyevitch Poloznev
Kalju Orro as Viktor Ivanovitch Dolzhnikov, railway engineer
Elisabet Reinsalu as Kleopatra Viktorovna, his daughter, Misail's fiancée
Andrus Vaarik as Andrei Ivanov (Radish), contractor
Helene Vannari as Olga, serving maid in the Losevs' household
Ingrid Noodla as Anna Antonovna Luganovitch, Podgorin's secretary
Music director: Riina Roose
Composer: Jaak Jürisson
Lighting designer: Gleb Filshtinsky (St Petersburg)
Costume designer: Reet Aus
Set designer: Vladimir Anshon