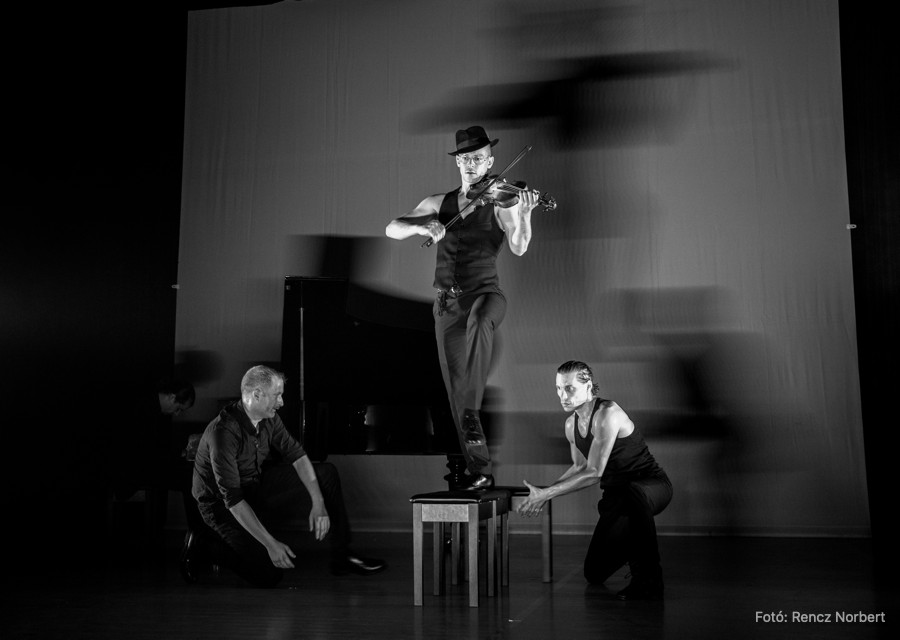 An ID 1.84 and Ádám Kiss-Balbinat and Marcell Szabó coproduction
Director: Attila Tókos, Zoltán Zsuráfszky Jr.
55 minutes, without breaks.
The ID 1.84 contemporary folk dance company's Attila Tókos and Zoltán Zsuráfszky Jr. together with Ádám Kiss-Balbinat and Marcell Szabó made an unconventional performing night from Bartók's everlasting opuses, where music and dance bows worthily before the great composer's figure.
We will get an introspection to Hungarian historical times' 'kaleidoscope', as they follow each other in a colourful whirling fluctuation. In this show Béla Bartók's versatility and his personality's all alterity is represented by the four different characters. The performance is a vivid music compilation; with classical piano pieces, violin duets and authentical folk music. Bartók's music is simultaneously neoclassical and folk, build upon European universal traditions and Hungarian roots together, reforming it with a peculiar intonation, 'tradition and renewal'. Timeless and everlasting – because tradition, national spirit and novation are jointly present in his music; therefore it vibrates for everybody, its substance is ubiquitous. We wanted condignly to create our very recent premiere, the one act folkdance-theatrical performance, perambulating the relations between our metropolitan existence and traditional Hungarian culture.
… we couldn't walk this way without the Bartókian legacy…
our mission is the condign remembrance and the going forward…

ID 1.84
Attila Tókos and Zoltán Zsuráfszky Jr.'s company
The ID 1.84 contemporary-folk dance company was founded by Zoltán Zsuráfszky Jr., the soloist of Hungarian State Folk Ensemble and Attila Tókos, the soloist of Hungarian National Dance Ensemble. Progression-Tradition-Revolution – that is their credo. Renewal does not exist without studying our roots, cultural traditions and our dance history. Our goal is to create a future-oriented vocabulary of movements, thinking in terms of 'neofolklorism'. Our formal terminology is the fusion of contemporary and modern dance techniques with the folk dance. Our scenic perspectives are to actualize the Hungarian tradition: to step into the future and to raise the past.
Music:
Béla Bartók, Ádám Kiss-Balbinat and Marcell Szabó
Light-design/Technician:
Roland Patai