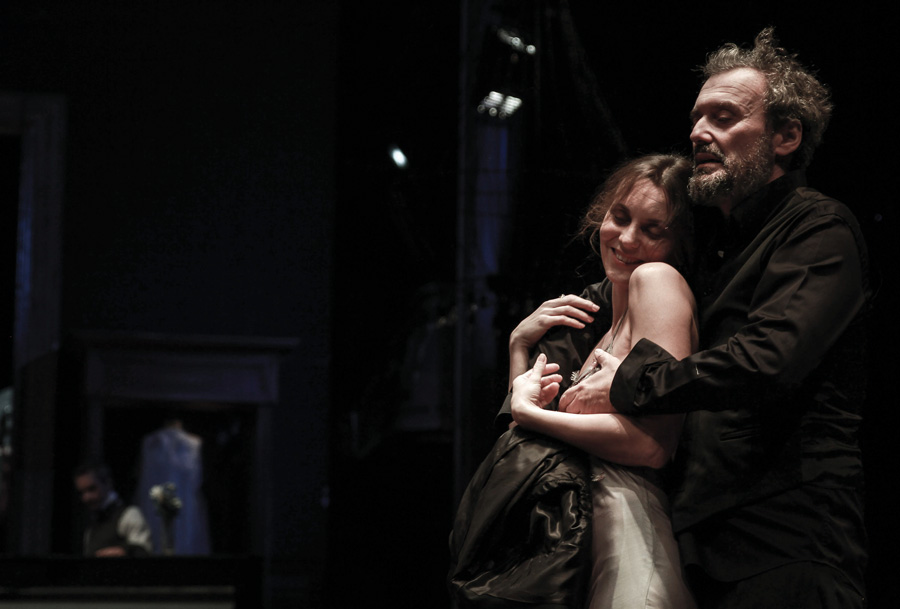 National theatre in Belgrade
Director: Tatjana Mandic Rigonat
Stage auditorium! Performed in Serbian with Hungarian translation.
2 hours 45 minutes, without breaks.
The story of Chekhov's 1887 play revolves around the protagonist, Ivanov, who is increasingly disappointed and weary of life. But is there really a story here? And if so, then where do we find it? Where is the end of the inner world that notices the external signs? Tatjana Mandic Rigonat puts on stage the requiem of a conflicted man, whose existence is but a struggle to achieve his goals.
Ivanov's character is itself a museum of the soul. Talking about emotions leads to sentimentality, while practicality and the strength needed for survival makes one cynical. This is Russia in the second half of the 19th century, halfway between the "exemplary" West and its own almost entirely static reality, sealing the fate of the intellectual.
The actors of the National Theatre in Belgrade bring the story so close to the audience that their performance makes us feel as fate, at work inside us, could break free along with a desire for love and could touch everyone who has skin, eyes, and ears to feel it.
Actors and cast:
Ivanov, Nikolai Alekseyevich: Nikola Ristanovski
Anna Petrovna, wife of Nikolai Alekseyevich Ivanov: Nada Šargin
Shabelski, Matvey Semyonovich, Count, Ivanov's uncle: Marko Baćević
Lebedev, Pavle Kirilovich: Branko Vidaković
Zinaida Savishna, his wife: Danijela Ugrenović
Sasha, daughter of the Lebedevs: Hana Selimović
Lvov, Eugene Konstantinovich, a young doctor: Nenad Stojmenović
Avdotia Nazarovna, an old woman of undetermined profession: Branka Petrić
Kosih, Dimitri Nikitich, a finance clerk: Bojan Krivokapić
Borkin, Michail Michailovich, a distant relative of Ivanov and manager of his estate: Nikola Vujović
Babakina, Marpha Yegorovna, a young widow, owner of an estate and daughter of a rich merchant: Vanja Milačić
Yegorushka, lives with the Lebedevs: Predrag Vasić
Gabriel: Jelena Živković
Guest: Nemanja Konstantinović
Guest: Danica Arapović
Musicians: Nikola Dragović, Ivan Mirković, Nemanja Bubalo
Director and adaptation: Tatjana Mandić Rigonat
Stage designer: Branko Hojnik
Costume designer: Bojana Nikitović
Choreographer/ Stage movement: Anđelija Todorović
Composer: Irena Popović
Dramaturge: Slavko Milanović
Other
Stage Speech: Ljiljana Mrkić Popović
Executive Producer: Milorad Jovanović
Producer: Nemanja Konstantinović
Stage Manager: Sanja Ugrinić Mimica
Prompter: Gordana Perovski
Make-Up: Dragoljub Jeremić
Light Operator: Miodrag Milivojević
Set Crew Chief: Zoran Mirić
Sound Operator: Nebojša Kostić