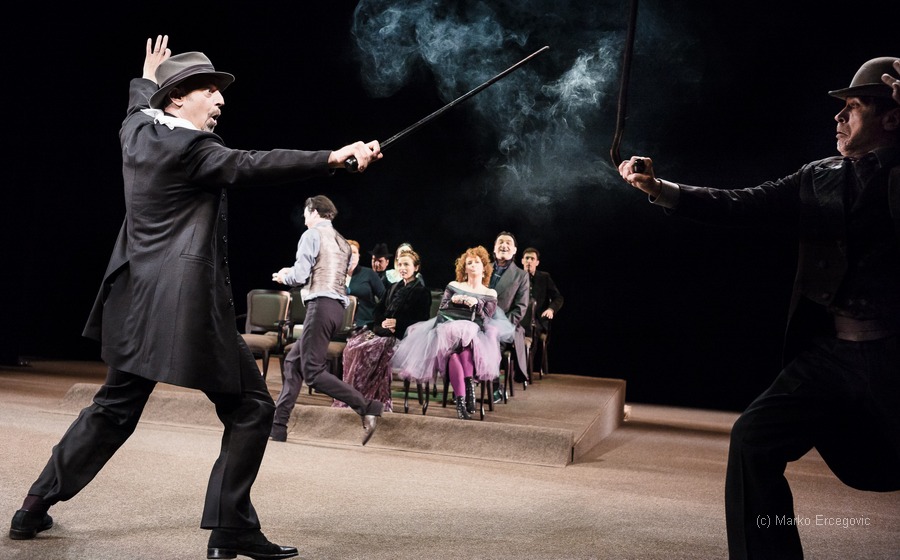 Croatiian National Theatre, Zagreb
Director: Eimuntas Nekrošius
Performed in Croatian with Hungarian subtitles.
3 hours 30 minutes with 1 breaks.
Ivanov, a new CNT (Croatian National Theatre in Zagreb) production is directed by a great theatre master, Eimuntas Nekrošius,who has staged a famous play by A.P. Chekhov in the national theatre daringly and openly different than the traditional staging of russian playwrite.
The stage is almost empty except a small square auditorium of chairs (as many as the characters in the play), slightly inclinated and facing the public with two stylized curtain holder in a back stage and one white swing. His staging is refined nad meticulous, with a appropriate music background. Director's Ivanov is a surplus man of future. Nekrošius slowly builds dramatic and comic situations during the performance by creating love triangels. Ivanov's relation towards his wife is confronted to the enthusiasm of young Sasha.Throughout the whole perfomance Nekrošius sees Ivanov as a man who is Hamlet against his will, Tartuffe, a hypocrite and Oblomov without any energy and Byron's Manfred.
But, director's vision of a play is not caged in a past. In the scene of drinking at the Ivanov's room one can recognize bits and pieces of today european socio-political context. This performance is demanding on both sides: for the actors on the stage as well as for the audience, who is approched directly in some moments, opening a new perspective on a play, thus making our reception of Chekhov fresh and intriguing.
Actors
IVANOV: Bojan Navojec
ANA PETROVNA: Lana Barić
MATHEW SEMYONICH SHABESLKI: Dragan Despot
PAUL KIRILICH LEBEDEV: Goran Grgić
ZINAIDA SAVISHNA: Alma Prica
SASHA: Luca Anić
LVOV: Luka Dragić
MARFA YEGOROVNA BABAKINA: Nina Violić
DMITRY NIKITICH KOSYKH: Slavko Juraga
MIKHAIL MIHAYLOVICH BORKIN: Dušan Bućan
AVDOTYA: Ksenija Marinković
GUESTS: Jadranka Đokić, Ivana Bićan
PASSENGER: Franjo Kuhar
GUEST: Silvio Vovk
GAVRILA: Ivan Glowatzky
Prompter: Višnja Kiš
Stage manager: Roko Grbin
Stage manager: Roko Grbin
Consecutive translator: Elina ŠULENTA
Assistent costume designer: Antonija JAKŠIĆ DOROTIĆ
Assistent set designer: Ante SERDAR
Assistent dramaturg: Mirna RUSTEMOVIĆ
Text translation: Borislav MRKŠIĆ
Sound designer and assistent director: Taursa ČIŽAŠ
Costume designer: Nadežda GULTIAJEVA
Set and light designer: Marius NEKROŠIUS