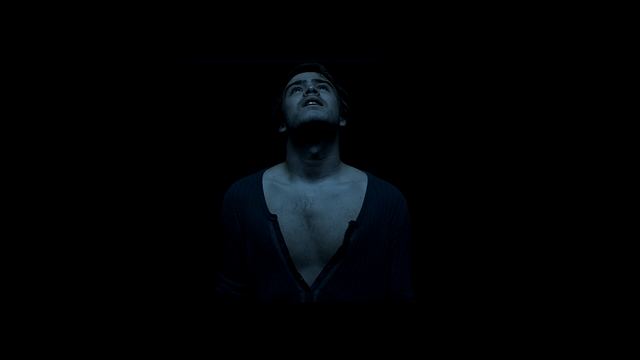 MITEM
Director: Barry Alexandre
1 hours 45 minutes, without breaks.
film based on the theatre performance directed by Claude Régy
The protagonist Mattis does not communicate with his environment using human language. He interprets the signs of birds, reading their claw marks in the sand as if they were a script. The film shows practically nothing apart from what is on the actor's face, and yet a whole series of scenes flickers in our imagination. To use poet János Pilinszky's words, the human face becomes a "metaphysical arena". As the film's director Alexandre Barry says, "Claude Régy has always adamantly refused to have his productions recorded on film, because he still believes in the miracle of live performance, in the experience of life flowing among spectators occupying a space. (...) This is the first and perhaps the last film to record a Régy production in its entirety."
"Claude Régy mindig ádázan visszautasította előadásainak filmfelvételen való rögzítését. Mert még mindig hisz az élő előadás csodájában, az egy térben lévő emberek között áramló élet megtapasztalásában. És mert mindezeken túl számára mindig is szentségtörésnek, sőt szemérmetlennek tűnt, hogy az eredendően efemer alkotást konzerválják. Egyszer mégis rászánta magát, hogy közösen készítsünk egy portréfilmet. 2005-ben, amikor a "Világ felégetése" (La brûlure du monde) című filmet készítettük, ráéreztünk arra, hogy a tévéfelvétellel szemben mégis ki lehet dolgozni egy módot a színpadi világ filmkockákban való visszaadására. Ebből a tapasztalatból született meg a gondolat, hogy az Isteni köd című előadását filmen rekonstruálom. Ez az első és feltehetően utolsó olyan film, amely Régynek egy teljes előadását rögzíti" (Alexandre Barry).
A norvég regény főhőse, Mattis felnőttként nővére gondozásában él – képtelen dolgozni, képtelen a társadalmi normák szerint létezni. Nem az emberek nyelvén kommunikál a környezetével, a madarak jeleit olvassa, lábuk nyomát a homokban írásnak tekinti.

Claude Régy 1923-ban született. Első rendezését 1952-ben hozta létre. Alkotó munkájában mindig a kortárs szerzőket részesítette előnyben: a 60-as, 70-es évektől kezdve Marguerite Duras, Nathalie Sarraute, Edward Bond írásait. Majd később bevezeti Franciaországban többek között Peter Handke, Botho Strauss, Jon Fosse, Tarjei Vesaas, Sarah Kane műveit.

1991-ben elnyeri az egyik legrangosabb francia színházi díjat (Grand Prix National du Théâtre). A legnevesebb francia színészeket rendezte. Ezzel párhuzamosan pedig színházi iskolákban oktat, ahol ifjú színésztehetségeket fedez fel (egyikük a filmben szereplő Laurent Cazanave). Az előadást, melynek alapján Alexandre Barry filmje készült, 2010-ben mutatták be Párizsban. Claude Régy egy külön sziget a francia színházban, a homály és a csend költészetével.