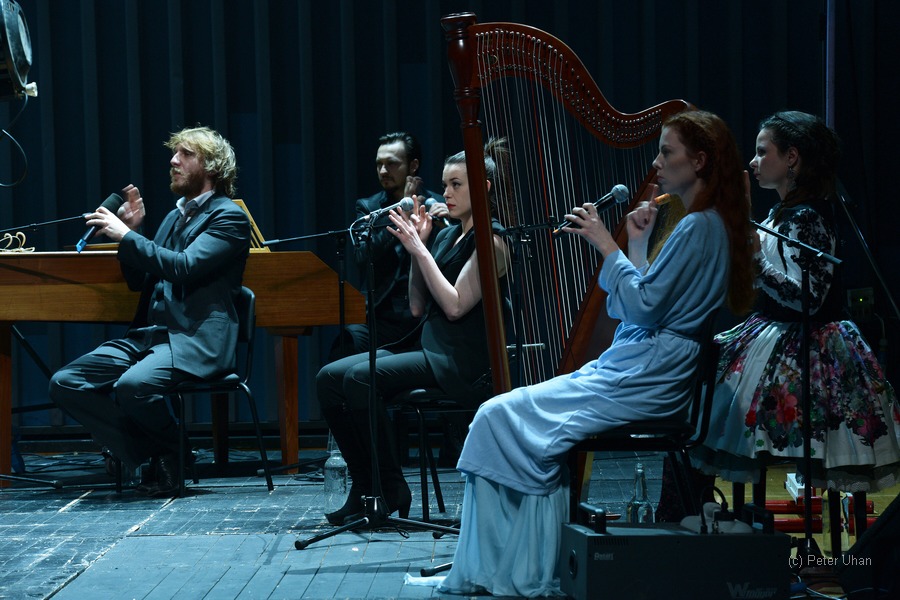 Slovenian National Theatre (SNT) Drama Ljubljana, Ljubljana City Theatre, Cultural and Congress Centre, Ljubjana, Slovenia
Director: Jernej Lorenci
Performed in Slovenian with Hungarian and English subtitles.
3 hours with 1 breaks.
The Iliad is a stage construction of Homer`s epic. Rather than trying to create a visual masterpiece, the director and the artistic team chose to work with a relatively small number of actors (12), with an emphasis on the spoken word, narration, rhythm of the dactylic hexameter, and sound imagery, accompanying the narrative. The performance is in two parts: in the first, the adaptation closely follows the original Homer`s narrative, slowly unravelling the three worlds of the Iliad: the Greeks, the Trojans and the Gods. In the second part, the performance pictures the great slaughterhouse that is the Trojan war: all battles become one, all victims become a universal victim. The cast is a selection of the best Slovenian actors from the Slovenian National Theatre and the Ljubljana City Theatre.
Awards and prizes of the performance:
The performance won the Politika Award for Best Direction and the Audience Award at the 2015 BITEF Festival in Belgrade. It has been selected for the main programme of the largest Slovenian Theatre Festival Borštnikovo srečanje 2015 in Maribor, where it won three awards (1. Jette Ostan Vejrup for Best Actress, 2. the cast for Best Ensemble, 3. Pascal Mérat for Lighting Design). At the 23. edition of the International Theatre Festival KONTAKT 2016 in Torun, Poland, the Iliad won three awards: GRAND PRIX, Press Award and Best Music Award (to Branko Rožman and the performers).
The Iliad was selected for the Varna Summer International Theatre Festival 2016 (Varna and Sofia, Bulgaria) and was the closing performance of the Sibiu International Theatre Festival 2017 (Sibiu, Romania). It was also presented in Zagreb (ZKM – Zagrebačko kazalište mladih, May 2017) and in Minsk, Belarus, at the International Theatre Forum Teart 2017 (October 2017).
Actors:
Jure Henigman, Nina Ivanišin, Aljaž Jovanović, Gregor Luštek, Marko Mandić, Zvezdana Novaković, Jette Ostan Vejrup, Primož Pirnat, Matej Puc, Blaž Setnikar, Mia Skrbinac, Janez Škof

Stage designer: Branko Hojnik
Costume designer: Belinda Radulović
Choreographer: Gregor Luštek
Composer: Branko Rožman
Dramaturge: Eva Mahkovic, Matic Starina
Pascal Mérat (Lighting Designer),
Tatjana Stanič (Language Consultant),
Zvezdana Novaković (Assistant to Composer),
Gregor Luštek (Assistant to Director)