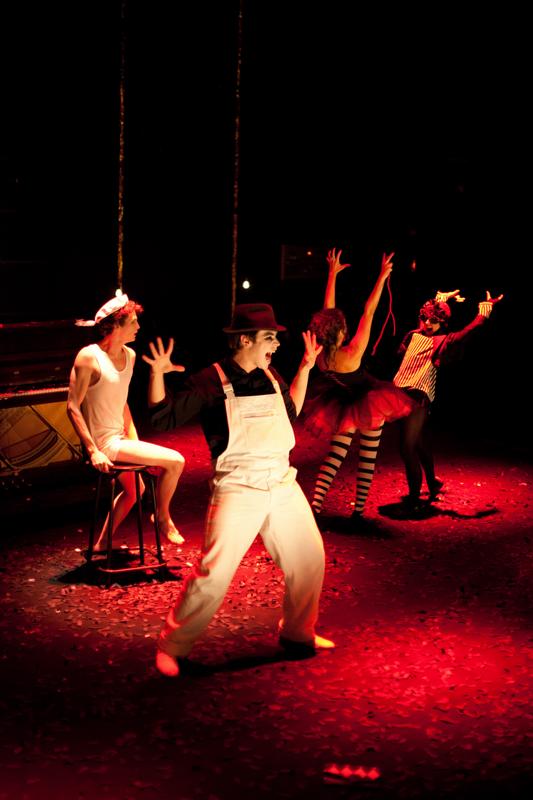 Compagnie La Piccola Familia, France
Director: Jolly Thomas
1 hours 30 minutes, without breaks.
A poetic rock-performance of Marivaux's early piece that has never been staged in Hungary before, directed by the new daredevil of French theatre, Thomas Jolly.
A fairy falls in love with the handsome boy, Arlequin. Blinded by her emotions, the fairy beauty fails to measure the boy's ignorance and the shortcomings of his education. She does all she can to make herself desired, but underestimates the power of first love's innocence that binds Arlequin to a shepherdess who lives nearby.
"Arlequin's character embodies the right to existence. A right that has since become an emblem of the theatre. Shouting out loud that we are alive, we are here and claim our freedom." Thomas Jolly
Színészek:
Arlequin - Romain TAMISIER,
A tündér / The Fairy - Julie BOURICHE,
Silvia - Charlotte RAVINET,
A pásztor / The Shepherd - Romain BROSSEAU,
Az unokatestvér / The Cousin - Taya SKOROKHODOVA,
Trivelin - Rémi DESSENOIX
Rendező, díszlet: Thomas JOLLY
Fény: Thomas JOLLY & Jean-FRANÇOIS LELONG
Színpadmester: JEAN-FRANÇOIS LELONG
Hang: MATTHIEU PONCHELLE & JÉRÔME HARDOUIN
Produkció: La Piccola Familia
Koprodukció: Centre dramatique régional de Haute-Normandie / Théâtre des Deux Rives

Támogatók:
- ODIA Normandie / Office de Diffusion et d'Information Artistique de Normandie.
- Ministère de la Culture et de la Communication / DRAC Haute-Normandie
A Piccola Familia támogatója:
DRAC Haute-Normandie, Région Haute-Normandie, Ville de Rouen, Département de Seine Maritime.