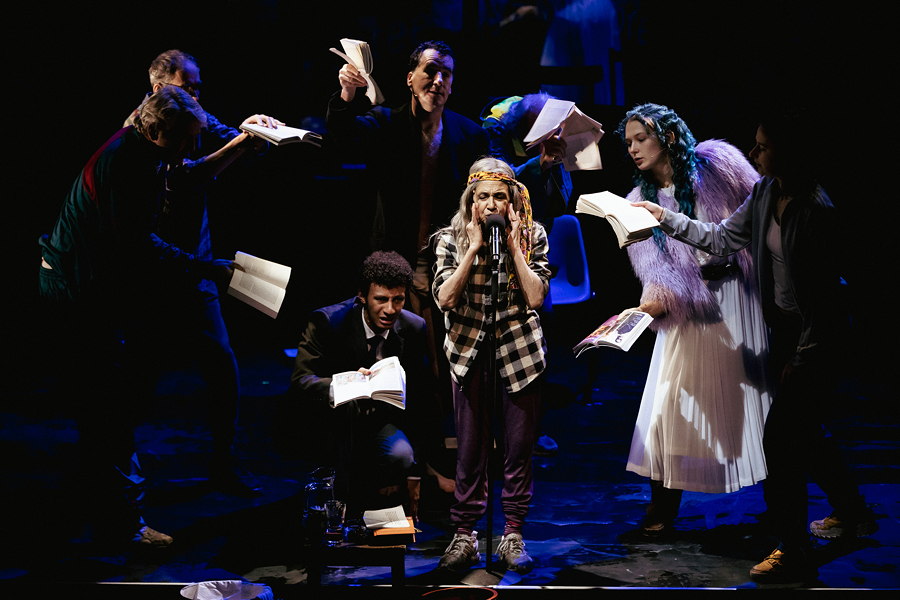 Complicité, London, England
Director: Simon McBurney
Performed in English with Hungarian subtitle
3 hours with 1 breaks.
A Complicité co-production with Barbican London, Belgrade Theatre Coventry, Bristol Old Vic, Comédie de Genève, Holland Festival, Les Théâtres de la Ville de Luxembourg, L'Odéon-Théâtre de l'Europe, The Lowry, The National Theatre of Iceland, Oxford Playhouse, Ruhrfestspiele Recklinghausen and Theatre Royal Plymouth.
The world-renowned international touring company Complicité presents a new work for the theatre, Drive Your Plow Over the Bones of the Dead, directed by Simon McBurney.
Based on Nobel Prize winning author Olga Tokarczuk's novel of the same name, the darkly comic, anarchic noir caused a seismic reaction in Tokarczuk's native Poland due to its defiant attack on authoritarian structures, with right-wing press branding the writer an 'eco-terrorist' and national traitor. The story begins in the depths of winter in a small community on a remote Polish mountainside. Men from the local hunting club are dying in mysterious circumstances and Janina Duszejko – an eccentric older local woman, environmentalist, devoted astrologer and enthusiastic translator of William Blake – has her suspicions. She has been watching the animals with whom the community shares their isolated, rural home, and she believes they are acting strangely… Engaged in fierce resistance against the injustices around her, Janina refuses to be a prisoner of society and gender. Her actions ask questions both of the male world which surrounds her and of our deeper human intentions: what does it mean to be human and what does it mean to be animal, and can we separate the two? Why is the killing of animals sport and that of humans murder? A thought-provoking, wry and otherworldly murder mystery, Drive Your Plow Over the Bones of the Dead is a tale about the cosmos, poetry, and the limitations and possibilities of activism.

William Blake
'A dog starv'd at his Master's Gate
Predicts the ruin of the State.'
(William Blake)
William Blake was an English poet, painter and printmaker of the 18th and early 19th centuries. He was a nonconformist - a radical, anti-authority figure and an animal activist who expressed his ideas in words and images.
One of the greatest poets in the English language, he was largely unrecognised during his life but is now considered one of the most important figures in the history of the poetry and visual arts of the Romantic Age.
His notable works included: Songs of Innocence and of Experience, The Marriage of Heaven and Hell, The Ancient of Days and Jerusalem.
Stop Ecocide
ECOCIDE is the mass damage and destruction of ecosystems – severe harm to nature which is widespread or long-term.
It includes ocean damage, deforestation, land and water contamination and air pollution. As citizens we can and must take responsibility for what we eat and buy, but ordinary citizens do not make high level investment and policy decisions. Ordinary citizens cannot be blamed for ecocide.
Right now, the Rome Statute of the International Criminal Court (ICC) lists four crimes: Genocide, Crimes Against Humanity, War Crimes and Crimes of Aggression. The Statute can be amended to add a fifth crime: ECOCIDE. Unlike suing and fining corporations, making ecocide a crime creates an arrestable offence. It makes those individuals who are responsible for acts or decisions that lead to severe environmental harm liable to criminal prosecution. In this way Earth's most precious ecosystems can be protected and allowed to recover.
HOW YOU CAN HELP
Step 1: sign the international petition
Step 2: become an Earth Protector
Step 3: tell everybody
Visit stopecocide.earth to find out more
Photos: Camilla Adams, portrait: © Jorri Kristjánsson
EUROPEAN TOUR CREDITS
Director Simon McBurney
Set and Costume Design Rae Smith
Lighting Design Paule Constable
Sound Design Christopher Shutt
Video Design Dick Straker
Additional Direction Kirsty Housley
Dramaturgy Laurence Cook, Sian Ejiwunmi-Le Berre
Movement Direction Toby Sedgwick
Original Compositions Richard Skelton
Assistant Director Gemma Brockis
Associate Costume Designer Johanna Coe
Wigs Designer Susanna Peretz
Casting Amy Ball CDG
Additional Movement Crystal Pite
Associate Lighting Designer Lucia Sánchez Roldán
Sound Associate Ella Wahlström
Video Associates Jachym Bouzek, Jakub Xiv for Mesmer
Associate Video Designer Ross Flight
Associate Set Designer William Fricker
Design Assistant Ruth Hall
Original novel translation Antonia Lloyd-Jones
With
Thomas Arnold, Johannes Flaschberger, Amanda Hadingue, Kathryn Hunter, Kiren Kebaili-Dwyer, Weronika Maria, Tim McMullan, César Sarachu, Sophie Steer and Alexander Uzoka.
Production Manager Niall Black
Company Stage Manager Sally McKenna
Deputy Stage Manager Emma Rangel
Assistant Stage Manager Naomi Ireland-Jones
Wardrobe Supervisor Heather Judge
Costume Assistant (Wigs) Krystal Garrity
Lighting Programmer Tamykha Patterson
Lighting Supervisor Tom Pritchard
Production Electrician Samuel Baker
Stage Supervisor David Hill
Sound Supervisors Sean Gallacher and Amir Sherhan
Original Video Programming Salvador Bettencourt Ávila
Video Programmer Caitlyn Russell
Video Supervisor Ben Walden
Animator Gustaf Lindstrom
Model Box Assistant Catherine Morgan
Dramatherapist Wabriya King
Access Consultant Aisling Gallagher
Audio Description Consultant Benjamin Wilson for Hear the Picture
Audio Describer Jo Mousley for Hear the Picture
Poster Artwork Patryk Hardziej
Additional filmed content
Additional Video directed by Adam Smith @flatnosegeorge
Additional Video Production Company Treatment Studio
Shoot Producer Matt Cummins
Treatment Studio Producer Sam Brickman
Editors Iain Finlay and Warren Chapman
Animators James Rushton, Noah Campeau and Charlie Broome
Technical Supervisor Dylan Steenkamp
DOP Ricky Patel
Art Director Jake Shepherd
Archivist Matthew Sanger
Runner Austin Shaw
Thanks to Patrick Hickey
A Complicité co-production with Barbican London, Belgrade Theatre Coventry, Bristol Old Vic, Comédie de Genève, Holland Festival, Les Théâtres de la Ville de Luxembourg, L'Odéon-Théâtre de l'Europe, The Lowry, The National Theatre of Iceland, Oxford Playhouse, Ruhrfestspiele Recklinghausen and Theatre Royal Plymouth.
Complicité
Senior Producer Tim Bell
Project Producer Josie Dale-Jones
Creative Engagement Producer Rima Dodd (Maternity Cover)
Executive Director Amber Massie-Blomfield
Artistic Director Simon McBurney
Creative Engagement Producer Natalie Raaum (Maternity Leave)
Finance Manager Louise Wiggins
Tour
General Manager Jennie Green for Great Leap Forward
Associate General Manager Marlous Lang-Peterse for Great Leap Forward
Tour Booker Kayte Potter for Great Leap Forward
Production Assistant Sara Cormack for Great Leap Forward
Production Assistant James Miller for Great Leap Forward
Marketing Director Emma Laugier for Emma Laugier Marketing
Marketing Manager Suzannah Bowles for Emma Laugier Marketing
Marketing Assistant Matthew Meldrum for Emma Laugier Marketing
PR Kate Hassell and Ben Chamberlain for Bread and Butter
Funders
Complicité thanks The Mirisch & Lebenheim Charitable Foundation, John Ellerman Foundation,
John Lyon's Charity, Backstage Trust, Maria Björnson Memorial Fund and the Polish Cultural Institute, London for their generous support of this production and the surrounding education and community projects.
Complicité is an Arts Council England National Portfolio Organisation.