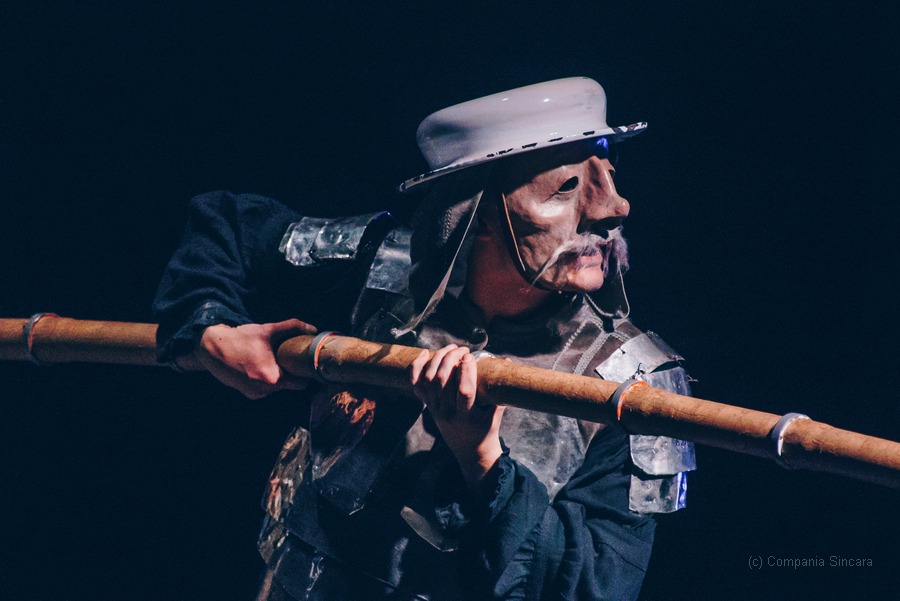 Compania Sincara, Cammerspiele Leipzig, Germany
Director: Rico Dietzmeyer / Compania Sincara
Performed in German with Hungarian and English subtitles.
1 hours, without breaks.
"…lances will be broken, faces distorted, horses will be saddled, cakes buttered, deaths will be died, ideals have been dreamt to their conclusion."
In a time in which visionaries, equipped with post-factual theories and alternative realities, gather their supporters around themselves. Thusly, in a time in which ordinary humans rise to become heroes, in order to beard waves and currents, create islands of safety, in a time, in which encounters with death and devil might lurk behind each and every corner and the Occident girds itself. Thusly, in a time, in which deceptions and superstitions have real consequences, in which people are mistaken for live-stock. In a time, in which true love – usually seemingly distant – can only become a reality in hotly anticipated tango nights. In this time – naturally, the time of peasants and knights – in this time, it seems like as if everything was not too far away from today.
The stage is a place for dreamers and true realists – in the best case they share the stage that makes so many worlds. The unlikely pair of figures: Don Quixote and Sancho Panza show us, how important dispute and exchange are and that persisting is no alternative when fronts stiffen. Get in gear!
Why flying wooden horses and masked faces, laments, butter cakes and the Spanish Mancha tell something about us and the current strays, as well as, more importantly, why the opinion of a good friend can mean rescue, even if this friend seems to live in another world – this is what DON Q portraits as vivid as never before!
A plea for the paradox, a broken lance for the dialogue beyond good and evil, beyond life and death.
Actors:
Julia Hagen, Philipp Nerlich, Marie Wolff & David Wolfrum
Live Music: Anselm Vollprecht
Stage designer: Lisa-Maria Totzke
Designer for Masks & Costums: Franziska E. Schubert
Composer: Anselm Vollprecht
Assistant: Christoph Püngel