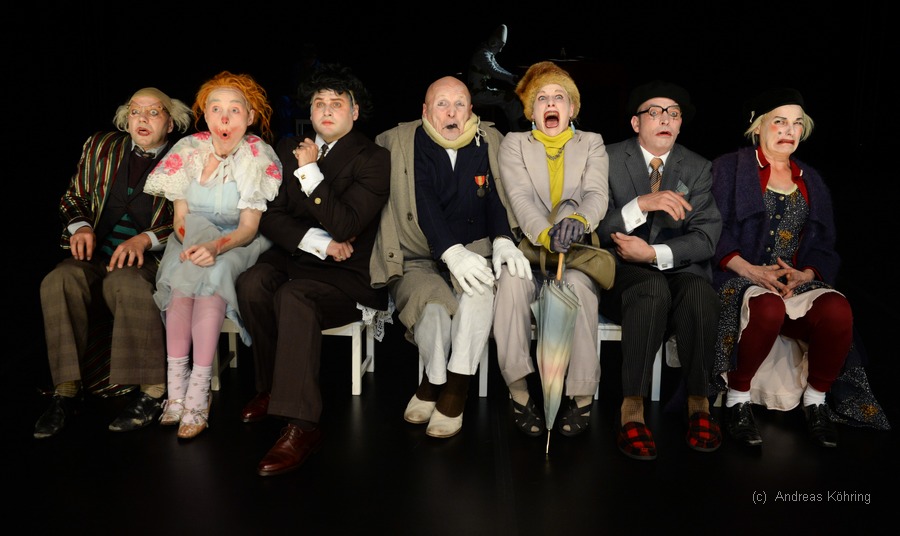 Theater an der Ruhr, Mülheim an der Ruhr, Germany
Director: Roberto Ciulli
Performed in German without subtitle.
4 hours 40 minutes with 1 breaks.
I. - Clowns 2 ½
(40 minutes break)
II. - Clowns im Sturm
While old age was once associated with dignity, experience and sometimes even wisdom, the demographic change in Western societies has affected our view of the later years of life. Now, age is more often seen as a flaw, a kind of deformation, that is especially characterized by weakness and physical as well as mental limitations.
But what if we shift our perspective to discover something different beyond the established patterns? If we look at the world through the eyes of a clown, for instance, our view on aging changes, too.
Often, the places where people tend to spend the last years of their lives are subject to the same rules that applied in school, especially boarding school – the important thing is for residents to follow the system of order so that the chaos presumably hiding around every corner can be kept at bay. Schedules are set in stone: people eat, sleep, and do gymnastics at the same time every day, and visitors are received on certain days – regardless of whether you feel like eating, sleeping, or welcoming visitors.
This creates the contradictions that are uncovered by a clown's gaze. Visitors are a nuisance to the person they are visiting, who sits like a helpless red clown opposite this patronizing white clown who thinks he has cornered the market on reason. Subjected to the organizing dictates of the holding institution, individuals develop an anarchic sense of stubbornness that can also provoke comedy in everyday situations.
Roberto Ciulli, one of the few European theater producers who can be considered an expert in the modern but forgotten art of clowning, works with the ensemble at Theater an der Ruhr to take a freeing, tragicomic and highly musical look at the darkness of "decline": an explosive clownery on aging.
Three years ago, "Clowns 2 ½" emerged from Roberto Ciulli's scenic imagination and Matthias Flake's musical concept – a look at the problems of aging that took a humorous, not annoyed, view of this reality through the eyes of a clown. Since that time, the state of our global society has changed dramatically; the world seems to have been turned upside down, with the influx of refugees and the fear of a certain form of Islam, of attacks. How do the aged clowns respond to this changed situation?
Part. I.
Clowns 2 ½
Actors:
Matthias Flake, Rupert J. Seidl, Petra von der Beek, Simone Thoma, Dagmar Geppert, Albert Bork, Klaus Herzog, Fabio Menéndez, Peter Kapusta, Roberto Ciulli
Dramaturge: Helmut Schäfer
Composer: Matthias Flake
Costume designer: Elisabeth Strauß
Stage designer: Gralf-Edzard Habben
Director: Roberto Ciulli
Part.II.
Clowns im Sturm
A comic-musical dream voyage
Actors:
Roberto Ciulli, Simone Thoma, Rupert Seidl, Fabio Menéndez, Steffen Reuber, Dagmar Geppert, Klaus Herzog, Petra von der Beek, Volker Roos, Matthias Flake, Albert Bork, Peter Kapusta
Director assistant: Dijana Brnic
Dramaturge: Helmut Schäfer
Composer: Matthias Flake
Costume designer: Elisabeth Strauss
Stage designer: Gralf-Edzard Habben
Director: Roberto Ciulli, Matthias Flake