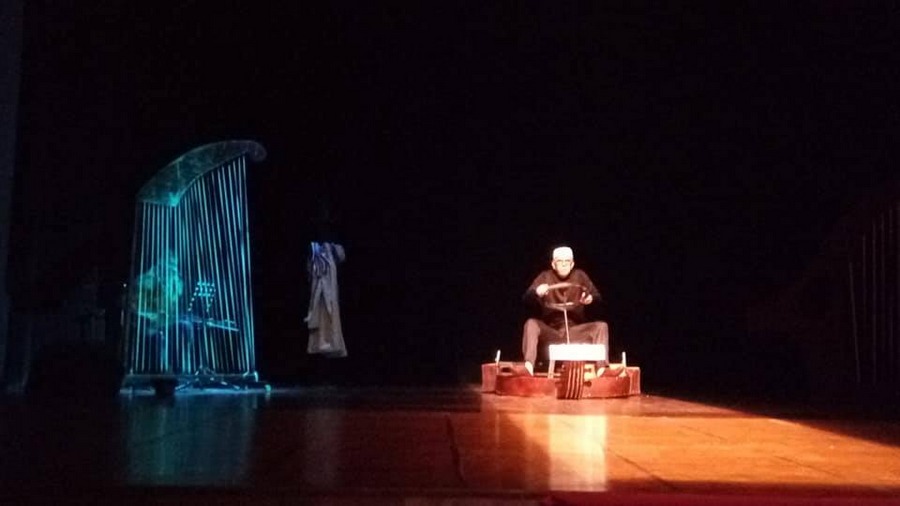 Théâtre SINDJAB de Bordj-Ménaiel, Algeria
Director: Omar Fetmouche
in Algerian Arabic with Hungarian subtitles
1 hours 10 minutes, without breaks.
An Algerian artist is searching for guitar strings for an evening event he organises. But he is disappointed as all the music shops have turned into fast-food restaurants or bars.
An old usurer finds him three strings, made of camel leather, in his workshop. The artist decides to leave the country, and his mother sells her jewelleries to buy a French visa for her son. In Paris, he enrols at a renowned music school. To make ends meet and finance his education, he gives concerts at night bars and galas. After three years, he finishes school and purchases an old double bass. Combining its strings with the ones made of camel leather, he builds an instrument with a unique sound and thus, draws the attention of famous musicians. He is invited home to open the doors of the new opera house. Unable to buy a case for the instrument, he puts it in a coffin, which a friend of him meant for his French wife, converted to Islamic faith, but to be buried in her own country. So the artist, pretending to be the widower, travels with the double bass in the coffin all the way to the woman's home village, where a traditional funeral ceremony is held indeed. On the fourth night, he digs up the double bass, but the cemetery guard reports him for desecrating of the grave. During the applause at the opera opening, police arrest him and he is interrogated by the criminal brigade.
Through a show full of humour, the artist raises questions about himself and society. The missing strings make it possible for the great Algerian actor, Achène Azazni to brilliantly depict the lack of creative spaces in Algeria. His partner, Amar Cherifi, a chaabi singer creates a musical atmosphere with a mandolin, as well as playing the role of the narrator.
Actor: Azezni Ahchène; Musician: Cherifi Amar
Sound technician: Ait Tahar Mohamed
Lighting designer: Azezni Mohamed
Set designer: Delci Djillali