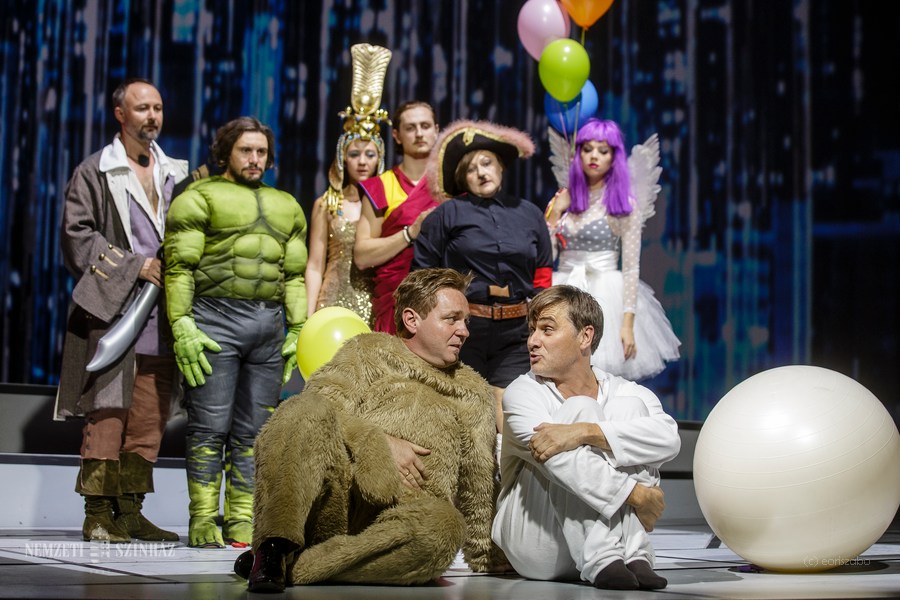 National Theatre, Budapest, Hungary
Director: Viktor Ryzhakov
2 hours 10 minutes, without breaks.
The new and utterly unbelieveable story of Ivan Vyrypaev is about eternal and simple human values – marriage, love, family – using the language of the Hollywood movies of today. The dreams are our jobs, which we have to fulfill at all costs – says Victor Ryzhakov director apropos of Dreamwork. Viktor Ryzhakov has already directed several plays of Vyrypaev, like Drunks in the Hungarian National Theatre. Similarly to previous plays of the contemporary Russian playwright, Dreamworks (written in 2011) is also about unfulfilled human dreams, about longing for love, but in this case, in the style of a Hollywood movie, using playful irony to discuss these serious questions people are still deeply affected by.
The characters of the play are elegant – appearing in tuxedos and in full dresses, or dressed according to the newest style. We meet the stereotypes of American movies – a Friday evening party where wisky, drugs and friends define your feelings. They are all those kinds of people we can meet in American movies, and with whom everything is always OK. The characters in Vyrypaev's play are seeking the meaning of life, looking for possibilities of love – in a world where the absurdly artificial milieu of the Dreamworks has already defeated our mundane reality.
"Us and our children, we already exist in a virtual reality, wandering among false values and rambling about all kind of things; about Buddhism, money, weed, and forgetting the essentials: our most basic relationships. Maybe this performance can take us closer to these important things" – Ryzhakov promises.
The author, Ivan Vyrypaev was born in Irkutsk in 1974. He is a cult figure in contemporary Russian theatrical life, a dramatist and director, and a central figure of the New Drama movement. Together with Viktor Ryzhakov, Vyrypaev has launched an art group, "Oxygen" (Kislorod), which endeavours to create a new theatrical language with a fresh tone and mentality. Ryzhakov's directing is characterized by this new, unusual, original theatrical language.
Translated by:
ANDRÁS KOZMA
David - Editor-in-chief of Science and Society magazine
Maryl - David's wife, journalist
Sally - Frank's wife, editor in chief of a women's magazine
Maximilian - rich patrol of American Buddhists
John Lama - American origin Buddhist lama