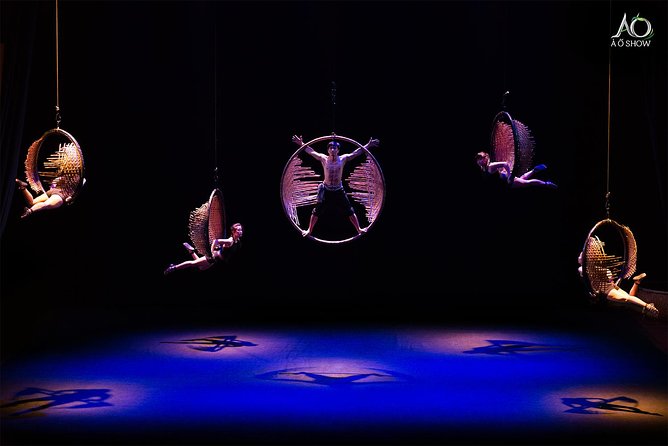 Lune Production, Vietnam
Director: Tuan Le
Attention! You can buy tickets for the A O Show at the Budapest Grand Circus or on the circus website!
1 hours 10 minutes, without breaks.
The A O Show tells the story of how Vietnamese people went through the exciting transitional periods, from the quiet and simple village life to modern and busy lifestyle.
The contrasting portrait of "Village-City" is expressed by a unique mix of bamboo circus, acrobatic acts, contemporary dance and theatrical art. The performance boldly highlights the charming beauty and cultural richness of Vietnamese life, in contrast to the nation's racing urbanization. During the show, you may be amazed by the harmony of smoothly flowing rhythm within the chaos.
The show is full of interesting metaphors of the different Vietnamese lifestyles.
A O Show depicts the charming beauty and cultural richness of Vietnamese life in the countryside.
The performers' movements are perfectly harmonized.
Every single move of the performers is so iconic that will keep your eyes busy.
The unique stage language captures the essence of the fascinating Vietnamese culture.
The show is a rare mix of circus, acrobatics, dynamic contemporary dance and live music.
See the daily lives of Vietnamese people illustrated in a graceful theatrical language.
The amusing body language will capture your feelings.
The creative using of bamboo and rattan propsdepicts a dynamic and visually rich image of Vietnam culture.
You can be touched by vivid romantic moments of life in the countryside.
Created by: Tuan Le, Nguyen Nhat Ly, Nguyen Lan Maurice, Nguyen Tan Loc
Lune Production – Vietnam
Musical Director: Nguyen Nhat Ly
Artistic Director: Nguyen Lan Maurice
Choreographer: Nguyen Tan Loc

Performers:
Truong Chinh Phu, Tran Ban Tin, Nguyen Nhat Quang, Dang Tram Anh, Tran Duc An, Dinh Van Tuan, Le Ly Xa, Hoang Thi Lien, Nguyen Van Thanh, Bui Quoc Huy, Tran Duc Ninh, Do Manh Hung, Nguyen Ton Doan Khanh, Quach The Nam, Vu Cong Minh

Musicians:
Thanh Hai, Luong Thang Long, Do Trong Thai, Nguyen Truong Tho, Nguyen Thi Phuong Thao

Technical Director: Nguyen Duy Chan
Lighting Technician: Tran Thanh Trong
Sound Technician: Mai Hoai Nam
Stage Technicians: Trinh Huy Luong, Tran Thien Hieu
Producer: Van Tran Diem Thuy