TENGRI - Deified Sky - György Szabados & Éva Kanalas - Improvisations on folk songs
28th April, Tuesday, 7 pm, Kaszás Attila Stage
György Szabados and Éva Kanalas gave a single concert at the Fonó House of Music in Buda, in 1997. It was preceded by a one-and-a-half-year period of creation and rehearsals. Its sound recording turned up again in 2017, after a long time.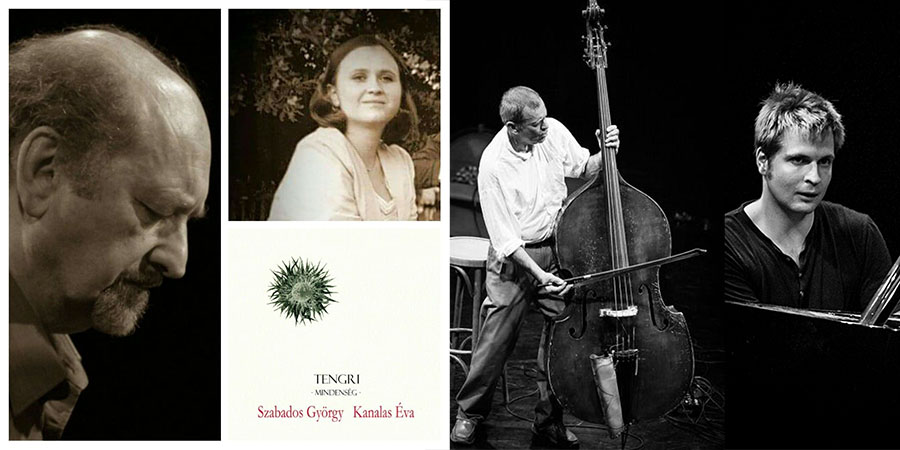 In the current record show of this unique musical work entitled TENGRI – Deified Sky, Éva Kanalas will sing accompanied by Róbert Benkő on double bass and Máté Pozsár on the piano, in the spirit of the creative musical process that resonates on the new CD release as well. Improvisations on folk songs within the tapestry of musical poetry will lead the audience into the ritual atmosphere of theatre. Tengri – a Turkic word – means Deified Sky or 'wholeness'.
The concert of György Szabados and Éva Kanalas promises the sounds of a completely original musical world. Szabados says that he is deeply inspired by the strong, ancient-clear sound world of Éva Kanalas' singing. The style that stretches back to East Asia, preserves and demands archaic vocal techniques. It may at first appear to compel Szabados into a completely opposite world of sounds, but it quickly becomes obvious that ultimately the two belong together and are in complete harmony. Kanalas' strict folk songs are surrounded by Szabados' free musical world at the level of musical poetry, giving us an extremely spacious musical experience through space and time. There seems to be nothing that he would not sift through slowly, and incorporate into his distinctive music. And one can only wonder at the listening skills of Éva Kanalas, her unbroken self-assurance, as her songs sound so naturally in this woven atmosphere.
Éva Kanalas – voice
Róbert Benkő – double bass
Máté Pozsár – piano

Music illustration
The resonant voice of Éva Kanalas, the flexibility and spirit of her singing, and the spiritual content she clearly conveys in her performances are linked to a great culture that stretches as far as the Pacific Ocean, to the sound world of the so-called steppe culture, which once was very influential in the archaic Hungarian instrumental and singing culture.
(György Szabados)
György Szabados' piano playing, his woven world of improvisation, embraced my voice and flew me into timeless infinity, and then left me alone there, so that my song was born again and again! The Hungarian folk song, resounding in the space of "orphaned infinity", gives a message from the past to the future, from the plains to the mountains, to stay here forever!
(Éva Kanalas)

(01 August 2021)