MITEM-FILMCLUB
The Secret Art of the Actor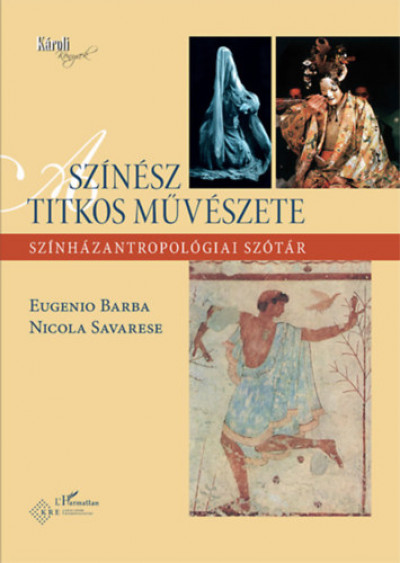 The title of our series is borrowed from Eugenio Barba and Nicola Savarese's dictionary of theatre anthropology.
This lavishly illustrated publication by the Károli Könyvműhely [Károli Book Workshop] and L'Harmattan Publishers is the fruit of many years of the authors' research which, unlike most Western investigations, provides an empirical approach to the performing arts.
The book will be available in the theatre during the festival. Its release will be celebrated with films on the work of Robert Wilson, Anatoly Vassiliev and Theodoros Terzopoulos, the masters present at this year's MITEM who have been exploring the secret art of the actor in depth.
1. screening
18 szeptember, National Theatre, Kaszás Attila Stage
3:00 pm
Robert Wilson: HAMLET: A MONOLOGUE
Based on the play by William Shakespeare
Performed by Robert Wilson
Text adapted by Wolfgang Wiens and Robert Wilson
Music by Hans-Peter Kuhn
World première Alley Theater, Houston Texas, 1995
Video-document from live performances in Warsaw and Tokyo (1997-2000) Lenght : 95'
Recording, editing and production: Change Performing Arts
5:00 pm
HAMLET – CREATING A MONOLOGUE – documentary, 1 hour

In English with Humgarian subtitles.
Before the screening there will be an introduction by Ann Christin Rommen, the co-director of the performances Hamlet – A Monologue and oedipus.
"Formalism means a distance from what one is saying or doing. In distance one has more respect for the audience. I prefer to let the audience enter the stage at will, on their own. We're there to make suggestions, but not to insist." – Robert Wilson
In this very formal, and yet highly personal approach to Shakespeare's great tragedy, Mr. Wilson works with the text Wolfgang Weins has adapted, and performs Hamlet as a monologue in 15 scenes.
Supported by a music and sound score created by Hans Peter Kuhn and costumes by Frida Parmeggiani, both long-time collaborators of Robert Wilson, he, in one of his rare appearances as a performer, interprets not only Hamlet, but also all of the participants in what is often considered Shakespeare's greatest work. Pulling props and costume pieces out of a trunk in the style of classic story theatre; Mr. Wilson becomes now Hamlet, now Gertrude, now Rosencranz and Guildenstern, now ophelia.
In the simple and beautiful scene design, all the settings of Hamlet's life and death are represented by shifting slabs of stone, creating different configurations, standing against a backdrop of constantly changing and subtle lighting effects.
Robert Wilson said that playing Hamlet was like performing from a diary or a journal. The way he identified with it, with respect to the movement, the color of voice, in the speaking of the text and the associations of the text, for him it felt very personal. Shakespeare's text, according to Wilson, is "this indestructible rock." In rethinking the text as a monologue, Wilson found a way for Hamlet to speak the text as a flashback: "It started just before he dies, and ended with his last speech. This one second before he dies, one sees the whole play, the whole life. one can see him seeing the situation, so you can see him in many different ways, as a child, a boy; reflecting on an older person, listening to an older person, being an older person; being a woman, being a man..."
"People say that I'm not interested in words so some years ago I said, 'okay, I'll do Hamlet.' It was a big challenge and I think that often it's important to take that one. Hamlet may be the greatest play ever to have been written, the greatest text ever written. Initially, I had thought to do it with a group of actors but eventuallyI decided I would do it myself, as a challenge: first, because it is a classical text, and then because it's a work where the concentration is primarily on the text, in addition to the images. I did it as a monologue, a kind of dream memory of the entire play. I restructured the text, beginning seconds before Hamlet dies. So the work is seen as a flashback, with Hamlet speaking the text of ophelia, Gertrude and all the other characters. The play really takes place in Hamlet's mind. It begins with his last speech and ends with his last speech."
2. screening
28 september, Great Hall of Uránia National Film Theatre

2:00 pm
"A PIECE OF OUR LIFE" – THE THEATRE OF ANATOLY VASSILIEV – documentary
Director: Anatoly Vassiliev

Anatoly Vassiliev Foundation (Fond Anatolija Vasziljeva)
Lenght: 1 hour 30 minutes
In Russian with Hungarian translation
This four-episode film recalls some of the most important periods and performances of the two decades of the legendary theatre, the "School of Dramatic Art", from the viewpoint of its creator, the Russian director and teacher Anatoly Vassiliev who has had a unique professional path. This subjective documentary of the era allows us to look into one of the most important theatrical workshops of the turn of the 20th and 21st centuries, and to familiarize with the characteristic methods, the struggles and battles of this extraordinary artist. You can see excerpts from several of Vassiliev's important productions, including "Don Juan is Dead", "The Iliad" and "Tonight we improvise", the latter based on Pirandello's texts. The film is also Anatoly Vassiliev's personal testimony on the metaphysics of theatrical creation.
3. screening
5 October, National Theatre, Kaszás Attila Stage

4:00 pm
Theodoros Terzopoulos: THEATROU ENGOMION (encomium of the theater) – film

Made by the Greek Television – Ellinikí Radiofonía Tileórasi (ERT) / in Greek: Ελληνική Ραδιοφωνία Τηλεόραση, (ΕΡΤ) Director: Dimitris Trikas
1 hour 30 minutes • In Greek with English subtitles and Hungarian voice-overs
The founding of the ATTIS company by Theodoros Terzopoulos in 1985 was probably the most unique way to establish a theatre in the global theatrical history. This is how he recalls it in the film: "In August, I contacted a hundred Greek actors as well as acting students. I organised a series of auditions and a workshop for them, first at the Delphi Cultural Centre, then up in the mountains. We were climbing in the Kithairon Mountains for three days. During these three days many people gave up. After the first day, only seventy of the one hundred stayed on. After the second day, the number of seventy had dropped to sixteen. on the third day, we came to a steep precipice... There was a 200-metre-high hill at the bottom, which served as a kind of safety net in case someone should fall off. I jumped over it and some followed. They were Sophia Michopoulou (who was almost like a little girl at the time), Kalliopi Tachtsoglou, Akis Sakellariou, Giorgos Symeonidis and Dimitris Siakaras. They were the ones who followed me. At that moment the Attis Company was formed."
Robert Wilson in Absolute Wilson: The Biography
(22 August 2021)