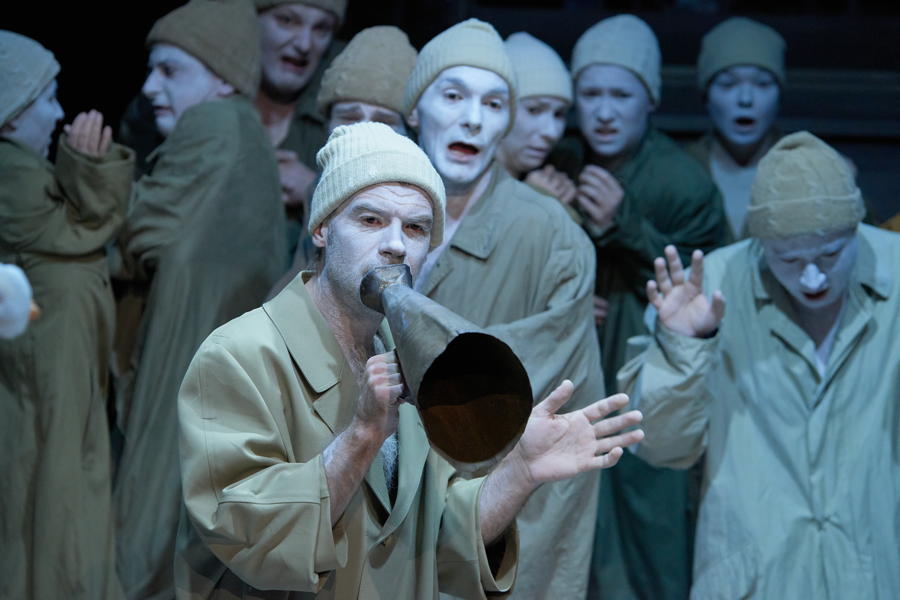 Csiky Gergely Hungarian State Theatre – Timișoara, Romania
Director: Silviu Purcărete
Performed in Hungarian with English subtitles.
1 hours 50 minutes, without breaks.
"The machine is running, the creator rests." This classical line became a sentence and it expresses the compressed definition of modernity: The Creator set the grounds for the World, the Creator placed the Man in it, then they abandoned the Universe wandering in a meaningless, untroubled space. Still, Madách Imre goes beyond this global, mechanical and (from the contemporaries' standpoint) deeply depressing perspective - he understands history to be a satanic nightmare dreamt by Adam with us and for us. Lucifer's protests are in vain, the promise of salvation gives meaning and confidence in human existence. Eva is holding the promised Messiah under her heart - the Lovechild who replaces the dialectics of inventing the enemy and continuous confrontation with acceptance, the opportunity of human condition and its inspiring mission.
Even if we don't see him on the stage in Silviu Purcărete's vision, the Child is always present: we can hear the voice, see his clear face shining in the deep layers of every scene, his frailness and constant danger give meaning to our desire to get to know ourselves better. This is an exceptional theatric laboratory, where the need for precision is not originated in the superiority of the judgement-makers, but only in love, compassion and the joy of closeness and togetherness.
Purcărete's unique humour, his legendary kindness and modesty bring the "Tragedy of Man" to unexpected ties: Madách's great poem of the 19th century, difficult at a first glance, becomes alive and accessible, while his abstract philosophy-theology is truly vital. Purcărete reaches out to the great classic, he starts a profound dialogue and invites him as a guest
Színészek /Actors:
Aszalos Géza, Balázs Attila, Bandi András Zsolt, Borbély B. Emília, Csata Zsolt, Éder Enikő, Kiss Attila, Kocsárdi Levente, Lanstyák Ildikó, Lőrincz Rita, Lukács-György Szilárd, Magyari Etelka, Mátyás Zsolt Imre, Mihály Csongor, Molnos András Csaba, Szász Enikő, Tokai Andrea, Vadász Bernadett, Vajda Boróka, Vass Richárd, Tar Mónika
Díszlet- és jelmeztervező / Stage and costume designer: Dragoș Buhagiar
Zeneszerző / Composer: Vasile Șirli
Dramaturg / Dramaturge: Visky András
Szövegváltozat / Text version by: Silviu Purcărete, Visky András
Rendezőasszisztens / Director's assistant: Ilir Dragovoja
A zeneszerző asszisztense / Composer's assistant: Éder Enikő
Hangmérnök / Sound engineer: Bayer Sebastian