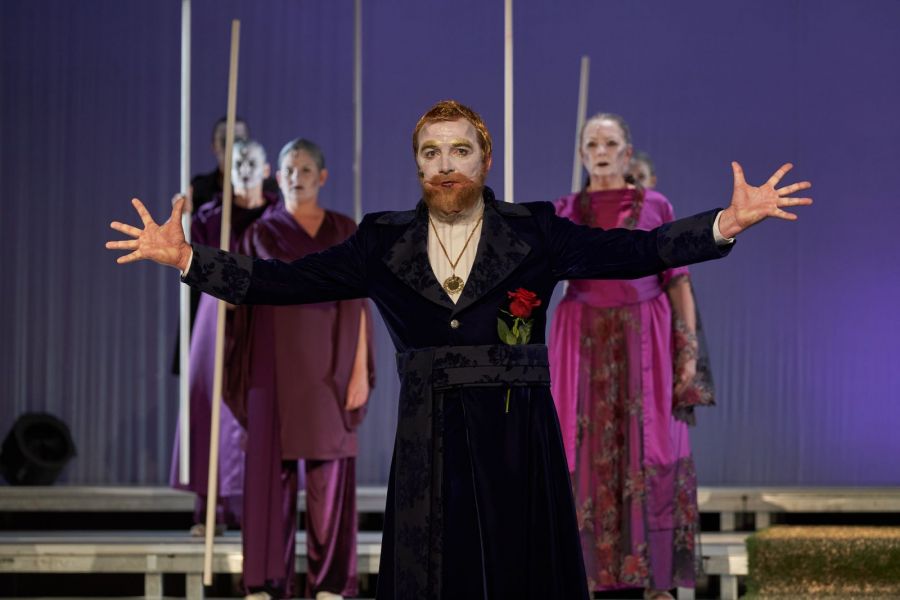 Northern Theatre of Satu Mare, Harag Gyögy Company - Romania
Director: Sardar Tagirovsky
Performed in Hungarian with English subtitles
3 hours 40 minutes with 2 breaks.
"This play by Géza Szőcs is a historical insight into the collective European and global conscience. It brings historical reality into focus through the fictitious lens of Rasputin. This fiction appears to be the last refuge for a passionate survival in the apocalyptic forest of mankind. It has this childlike desire for world peace, for a situation without killing each other in wars and in society. In the world we create here, all the poetry flirts with reality. All the desires dance with surrender, and all the deeds with philosophy. This drama is just like our contemporary image of Rasputin has become: divine and infinitely human, and at the same time, horrendously historical. It is because the both sacred and sinful figure of Rasputin is incomprehensible. His power is not of the kind that emperors, kings or tsars have, but like the enchanting look of players and swindlers.
I often imagine what it would have been like had there not been so many deaths during the 20th century. What my grandparents, the friends and relatives of my great-grandparents who did not survive the hard times could have been like. There was no end to these people's painful cries in the last century or even in ours. Or even last year. This year. I always believed that we as human beings are able to hear those lost voices through our imagination and empathy. Sometimes, it is not about how exactly something has happened… The point is not how precisely we can reconstruct history, but how we live our truth or truths.
There are as many truths as people and nations, all slightly different. Through the dramatic figure and journey of Rasputin, one can discover the daily, historical and universal truth of extinct eras and characters, and one can relate to people never known. This show will be also a commemoration of all the innocents or people who would never have used weapons, if they had had the choice." (Sardar Tagirovsky)
(Photographer: Károly Süveg)
Actors
Archangel: Johanna Bándi, Barbara Bogár, Evelyn Budizsa, Ágnes Gál, Éva Kovács, Tekla Laczkó, Zita László, Kati Méhes, Stella Rappert-Vencz Guseva
a 18-20 year old girl: Johanna Bándi
G. J. Rasputin, 45 years old: Gábor Rappert-Vencz
Nicholas II, Emperor of Russia, 46 years old: Gyula Gaál
George V, King of the United Kingdom, 49 years old: Gergő Frumen
Wilhelm II, German Emperor: Zsolt Orbán
Franz Joseph I, Emperor of Austria, King of Hungary: Mihály Zákány
Styopa, 25 years old: Attila Zsolt Péter
Madam, 60 years old: Éva Kovács
Loulou, 16-17 years old: Evelyn Budizsa
Gavrilo Princip, 20 years old: Nándor Poszet
Valet: Sándor Varga
Waitress: Barbara Bogár
Marcel Proust: Gyula Gaál
Prince Felix Yusupov, 25 years old: Zsolt Orbán
Set- and costume design, makeup: Anna Kupás
Dramaturge and lighting design: Sardar Tagirovsky
Composer: László Bakk-Dávid
Musical director: Annamária Manfrédi
Performance and assistant dramaturge: Réka Pável
Lighting design and assistant director: Dániel Székhelyi
Assistant dramaturge and assistant composer: Bálint Szigeti
Makeup: Blanka Moldován
Stage manager: Ritta Szabó
Special thanks to Alessia Pellegrino for her work with the actors.
Special thanks to Ágnes Keresztes for her work with the volunteers.