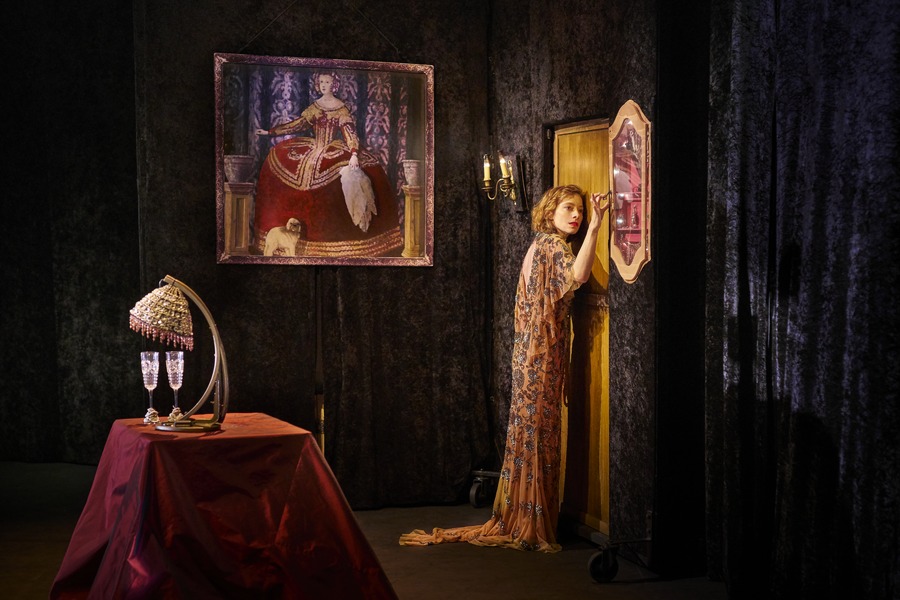 Bells & Spells production, Paris, France
Director: VICTORIA THIERRÉE CHAPLIN
Without text
1 hours 10 minutes, without breaks.
Plenty of humour and a spark of kind little foolishness – that is what can describe the world of Victoria Thierrée Chaplin. In this show, Aurélia Thierrée slips into the skin of a kleptomaniac.
Aurélia opens up her imaginary world pervaded by restlessness and poetry. Immersed in kleptomania), the multifaceted artist portrays a character affected and manipulated by the objects she steals. These objects belong to a world with a mind of its own.
A coat rack begins to walk. The chairs and the table are sliding and slipping away, while the wall splits up and unexpectedly, a dancing couple leaps through. All of a sudden, a skirt comes to life… Here the bizarre rubs shoulders with the supernatural. You are a witness to all kinds of mirage that make you smile and dream. There is no place for logic in Bells and Spells, no reason or sobriety. Aurélia Thierrée and Jaime Martinez take you on a journey through hallucinatory lands, where surrealist humour and fairy enchantment unite freely.
"Our work is very instinctive: there isn't any script. Victoria visualises the scenery and the stage, taking inspiration from photos and music to create the stage-setting. Then, I move freely in this universe, which I gradually inhabit." – says Aurélia Thierrée, who grew up in her parents' circus tent and spent her apprenticeship in their shows. Later she performed together with the legendary Tiger Lillies Circus, variety and cabaret shows from Berlin to New York. Her partner, Jaime Martinez, a dancer with Puerto Rico's origins, the co-founder of the Parsons Company and the dancer of several famous ballets, also performs in each staging of Victoria Thierrée Chaplin.
With:
AURÉLIA THIERRÉE
and
Jaime Martinez
Choreographer: Armando Santin, Victoria Thierrée Chaplin
Administratorr: Didier Bendel
Coproduction: Célestins – Théâtre de Lyon, Théâtre de Carouge – Genf (Switzerland), Change Performing Arts – Milan (Italy)
Director
VICTORIA THIERRÉE CHAPLIN