Back to performances
Stage composition based on the correspondence between Queen Elisabeth A' and Mary Queen of Scots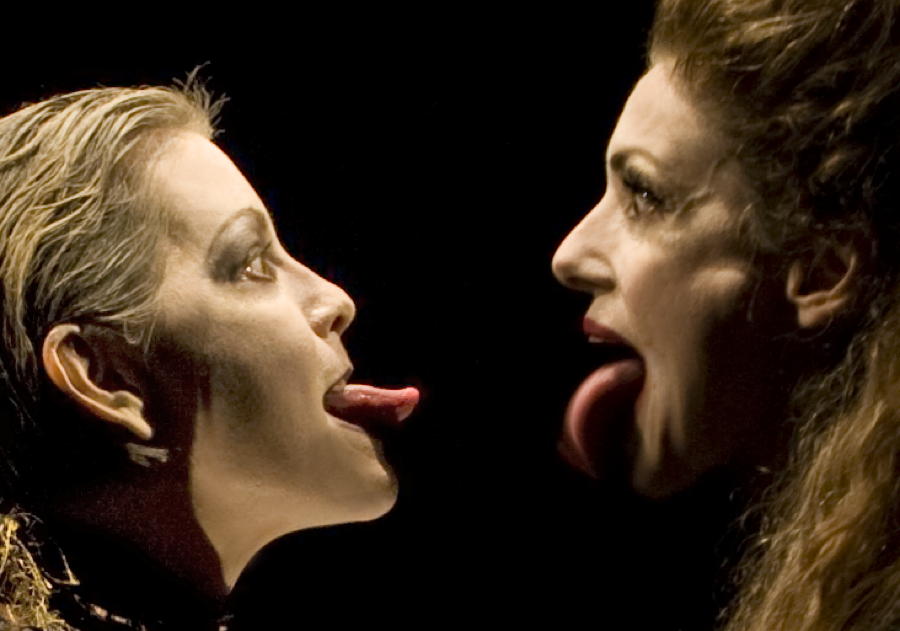 Attis Theatre – Athens, Greece
Director: Theodoros Terzopoulos
Performed in Greek with Hungarian and English subtitles.
55 minutes, without breaks.
Alarme, the first part of the trilogy continued by Amor and Encore, explores a historical and influential fatal conflict: the struggle between Queen Elizabeth A' and Mary Stewart Queen of Scots for the throne that ended with the decapitation of Mary Stewart. Alarme reveals the conflict between the two women based on fragments of their "official" correspondence. Their relationship is fueled by love, hate, violence and the desire over power which can drive them to any length. Beside the two women, the stage is claimed by a third person, a narrator, an impoverished civilian, who observes and sarcastically comments the anguish and battle of the two Queens.
The conflict between the two queens, Maria Stewart and Queen Elisabeth has the elements and dimensions of the conflict between the feminine and the masculine. What prevails is the Eroticism. In the matter of fact, this conflict is even more intense and premature than the battle between a man and a woman, since in this case the female activates within herself her male elements and an extreme aggressiveness and becomes relentless. The extreme aggressiveness suggests an extreme eroticism, since eroticism is the other face of aggressiveness.
A constant desire for fusion lies behind the fatal conflict of the two women. They are both attracted and intimidated at the same time by this fusion, since it means the abolition of their individuality. The two women fight each other and invoke violence, in order to defend and protect themselves against the desire for fusion; their constant battle and rivalry suggests an absolute love that intimidates them more than the hatred and the violence. This dynamism, that remains unsaid to the end, drives them to the total destruction.
Alarme premiered in Athens on 2010 and was presented in Attis Theatre for three seasons, subsequently followed by tours in international festivals; it was greatly appreciated by the audience and praised by the critics- especially by Michael Billington, the eminent and demanding critic of Guardian.
Színészek / Actors:
Sophia Hill, Anastasios Dimas, Aglaia Pappa
Díszlettervező / Stage designer: Theodoros Terzopoulos
Jelmeztervező / Costume designer: Loukia
​Zeneszerző / Composer: Panagiotis Velianitis