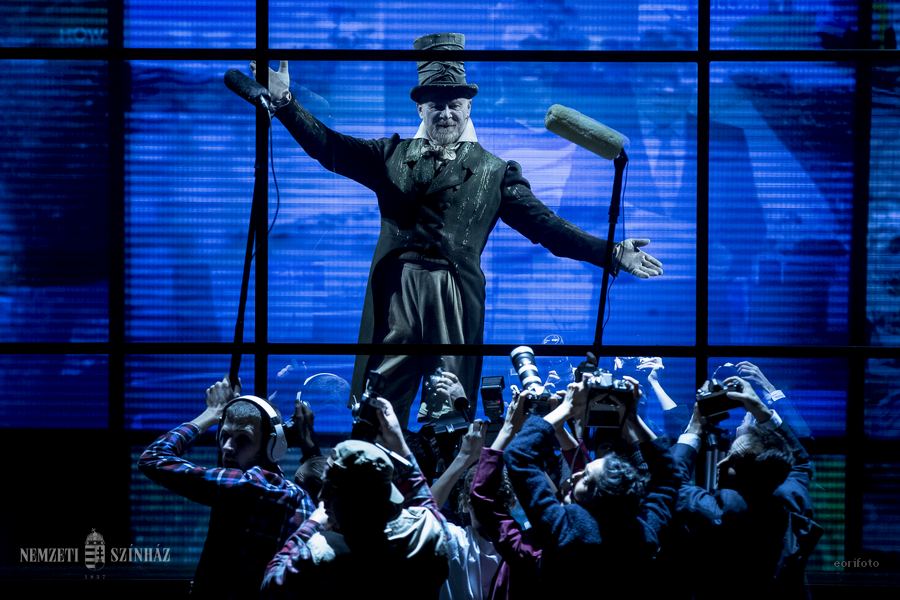 National Theatret, Budapest, Hungary
Director: Valery Fokin
Performed in Hungarian, with English subtitles
1 hours 35 minutes, without breaks.
What happens when one is swallowed by a crocodile? One dies, you would think. But what does Dostoyevsky say? When Ivan Matveich, a civil servant from St. Petersburg, is swallowed alive by a giant crocodile, he does not die. Rather, much the crocodile's surprise, he is pretty happy about the situation. From the reptile's belly he can spread light and new ideas among his fellow citizens. "You have only to creep into a secluded corner or into a crocodile, to shut your eyes, and you immediately devise a perfect millennium for mankind," so philosophizes the protagonist inside the crocodile.
The short story was inspired by a real event: in 1864 a German zoologist was making money by exhibiting a live crocodile to audiences that craved the exotic. The odd and grotesque experience made Dostoyevsky write a sour, philosophical, absurd story, drawing mainly on the literary traditions of Gogol's St. Petersburg tales (such as The Nose and The Overcoat).
The Hungarian première of the performance was held in the National Theatre, Budapest in 2016. The director, Valerij Fokin, is an outstanding creative mind in Russian theatrical life and also the artistic director of one of the most significant theatres in Russia, Alexandrinsky Theatre, in St. Petersburg. His production of Zero Liturgy, a play based on Dostoyevky's The Gambler, was one of the biggest successes of MITEM in 2014.

Furthermore: 
Berettyán Sándor e.h., Ferenci Attila, Gaál Natália, Kacsúr András, Kacsúr Andrea, Sőtér István,  Stefánszky István e.h., Szabó Imre, Szabó Sebestyén László, Tarpai Viktória, Vass Magdolna
Dramaturge, associate director
Stage manager
István Lencsés
Gábor Dobos