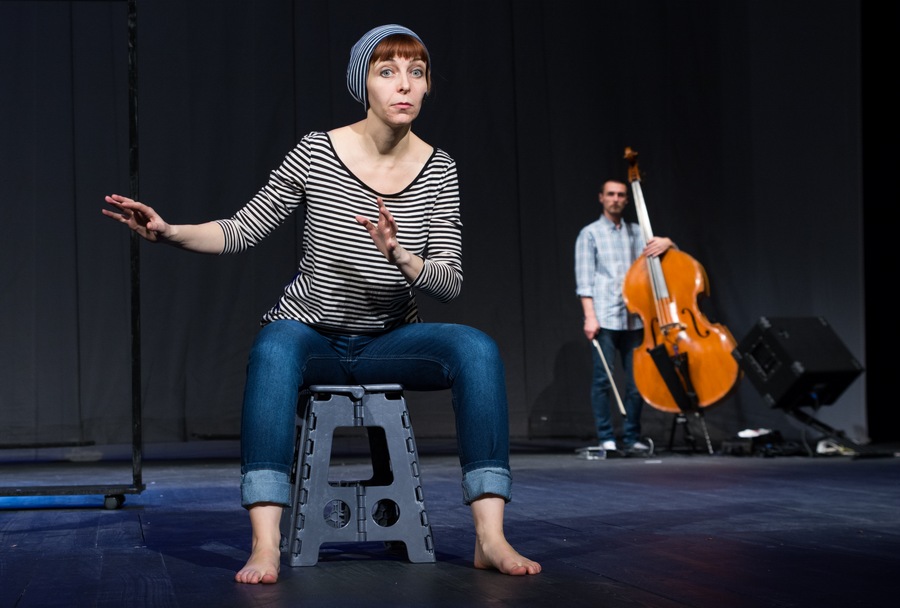 Northern Theatre Harag György Company, Satu Mare (Szatmárnémeti), Romania
Director: András Visky
Performed in Hungarian, with English subtitles
1 hours 5 minutes, without breaks.
"I have been carrying around this story for more than twenty years – a story which is very personal and which I thought could not be shared with others – when I was invited by the National Theatre in Budapest and decided not to put this off any longer. It was time to tell this story, come what may. We were expecting our third child in Satu Mare in 1989. The due date was approaching when the embryo decided not to come into this world. It died in its mother's womb. It gave up before its birth, like Beckett's embryo-self, performing its soliloquy in the womb, refusing to be born, then, on 13 April, Good Friday, it was born, born into death. It should have been born in its death, but it refused to. And our doctors did not intervene, strict laws forbade abortion; a spontaneous miscarriage will solve the problem, they said. A dictatorship, no matter what colour it is, wants to rule over the body too – it is not satisfied by crippling the soul. 'Porn' is a fictive cover-name. Reality, however, is far more astounding than this fiction. The cover-name does not really cover reality: it uncovers and rapes it. 'Porn' is an installation, the antechamber of the performance, which makes all the secret service documents written about me public. There is no editing, no heroic story. Where there is tyranny, there is tyranny." (András Visky)
Dramatist András Visky from Cluj-Napoca wrote his documentary-play Porn: The Story of My Wife in 2008, for a drama competition launched by the National Theatre in Budapest. The play was first performed in Romania in 2016, in the recently renovated theatre building of the Northern Theatre in Satu Mare, and the production as directed by Visky himself.
Cast:
Girl: ALBERT CSILLA
The other: ANTAL ATTILA
Voice: DIMÉNY ÁRON
Director: VISKY ANDRÁS
Set designer, installation: FORNVALD GRÉTI
Costume designer: FORNVALD GRÉTI
Dramaturg: DEÁK KATALIN
Music: ANTAL ATTILA
Song: VISKY PÉTER/VISKY BENCE
Video: SÜVEG KÁROLY
Prompter: SZABÓ RITTA
Stage manager: SZABÓ RITTA