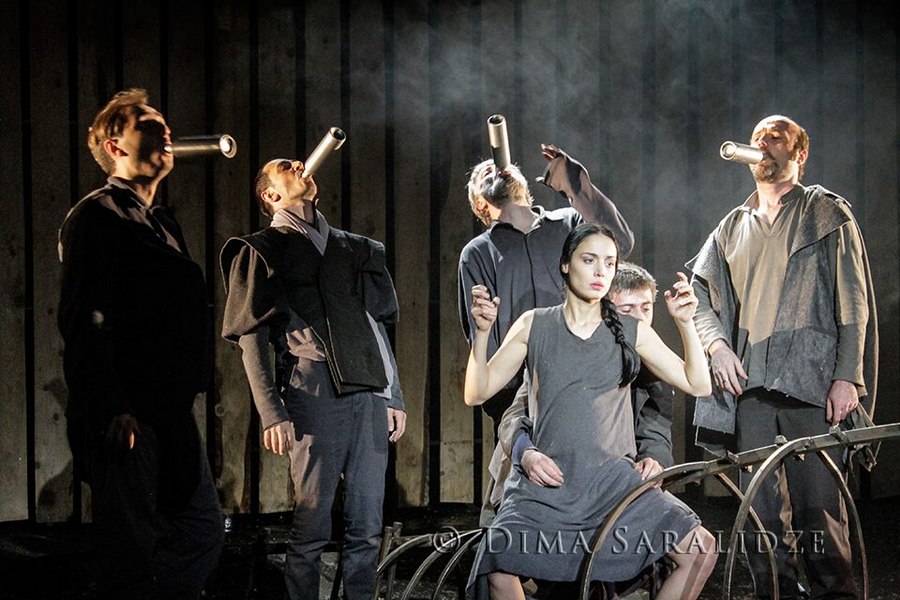 Vaso Abashidze Music and Drama State Theatre, Tbilisi, Georgia
Director: David Doiashvili
With Hungarian subtitles
2 hours 50 minutes with 1 breaks.
The title of this play, which has become the most frequently-performed composition for the stage by Maxim Gorky, makes it very clear that this is a drama about the fates, longings, and disappointments of people who have sunk into destitution and despair. The play deals with questions that are both philosophical and social. As Gorky himself writes, "what is better – truth or compassion? What is more important? Can compassion turn into a lie? This question is more philosophical than subjective." Each of the characters in the play has a distinctive past that is different from the pasts of the various other characters, yet at the same time they all share both the present and the future, a future barren of hope. They have no faith, no creed. They do not believe that their lives will ever take a turn for the better. They do not believe in themselves or their own abilities to do anything to alter their fates. They prefer simply to turn away from the truth and take refuge in illusions, giving up, in doing so, on their very existences.
The problems that arise in The Lower Depths and the questions that Gorky raises remain pertinent, even pressing today. It is hardly surprising that the play is performed frequently. In this production, Georgian director David Doiashvili offers his audiences a completely new contemporary reading of the play, rich with a suggestive poetic quality.
Színészek/Actors: Zaal Chikobava, Nana Butkhuzi, Ana Tsereleli, Tato Chakhunashvili, Tornike Gigrichiani, Aleksandre Begalishvili, Buba Gogorishvili, Nanka Kalatozishvili, Eka Demetradze, Shako Mirianashvili, Archil Sologhashvili, David Beshitaishvili, Kakha Kintsurashvili, Goga Gvelesiani, Gigi Karseladze, Giorgi Bakutashvili
Zene/Music: Nikoloz Racsveli/Nikoloz Rachveli, Díszlet/Stage design – Giorgi Ustiasvili, Jelmez/Costumes – Ana Mosidze, Koreográfia/Choreography – Konstantin Purtseladze, Fotó installáció/Photo installation - Gogiko Sakvarelidze, Fény/Lighting – Ia Nadriashvili, ​Hang/Sound: - Beka Maglakelidze