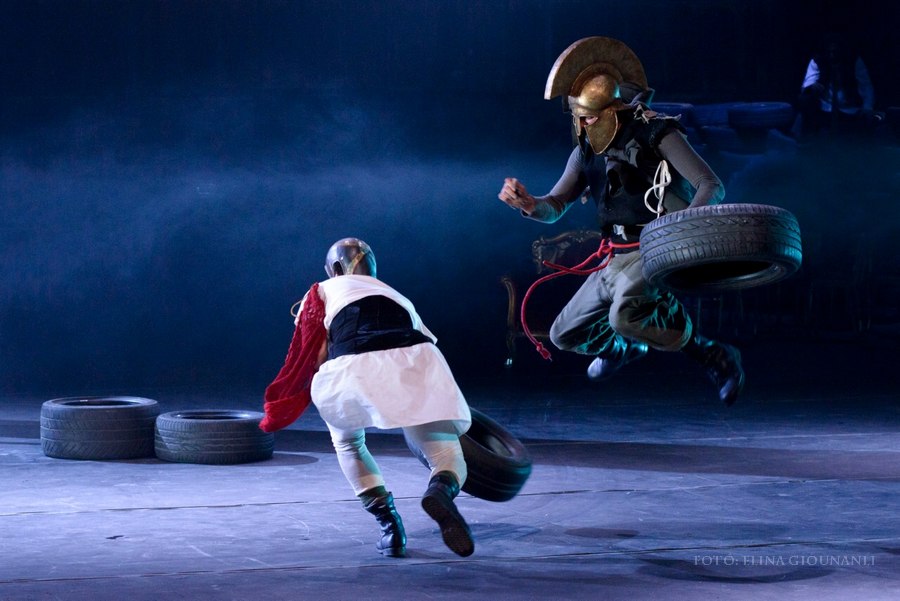 Polyplanity Productions, Stathis Livathinos Theatre, Athens, Greece
Director: Stathis Livathinos
in Greek with Hungarian and English subtitles
3 hours 15 minutes with 1 breaks.
The Iliad, which Aristotle called "the very first tragedy," takes us to a gigantic open orchestra. This is a theatre of war. After ten months of experimentation on Narrative and Epic Theatre, Stathis Livathinos Theatre Group presents this variation of all 24 books of the Iliad.
Being a classic, seminal work of the celebrated culture of Ancient Greece – the Iliad is subjected now, to a modern artistic gaze. The atmosphere on stage is dynamic and ever changing as fifteen actors seamlessly weave from theatre performers to contemporary 
rhapsodes. Two musicians with a complex percussion set and electronic devices enhance the experience.
"You have to hide literature in the theater, so the spectator can always imagine something more than he could have read if reading alone. I consider language perhaps the toughest oil pipeline we have. It traverses the ages yet never seems depleted. The Greek language is the only thing that can't be sold off or mortgaged." (Stathis Livathinos)
Színészek/Actors: Argyro Ananiadou, Vassilis Andreou, Lefteris Angelakis, Dionisis Boulas, Yorgos Christodoulou, Dimitris Imellos, Nikos Kardonis, Nefeli Kouri, Gerasimos Michelis,Yiannis Panagopoulos, Maria Savvidou, Christos Sougaris, Aris Troupakis, Amalia Tsekoura, Yorgos Tsiantoulas
Ütős hangszerek/Live Percussions: Manousos Klapakis
Modern görög fordítás/Translation in Modern Greek: D.N.Maronitis; Adaptáció/Adaptation: Stathis Livathinos, Elsa Andrianou és a színészek/with the contribution of the actors;
Díszlet- és jelmezterv/Set and Costume Design: Eleni Manolopoulou; Zene és hangterv/Music and Sound Design: Lambros Pigounis; Fényterv/Lighting Design: Alekos Anastasiou; Harcművészet/Martial Arts: Shaolin Monk Xi Miao Jie; Mozgás/Movement: Pauline Huguet; Műszaki vezető/Technical Manager: Manolis Vitsaxakis; Világítás/Lights Engineer: Panayotis Patelis; Hangosítás/Sound Engineer: Kostis Pavlopoulos; Díszlet- és jelmez asszisztens/ Stage and Costume Design Assistant:Tina Tzoka; Produkciós asszisztens/Production Assistant: Aggeliki Christopoulou; Produkciós Menedzser/Production Manager: Constantina Georgiou; Producer: Yolanda Markopoulou.