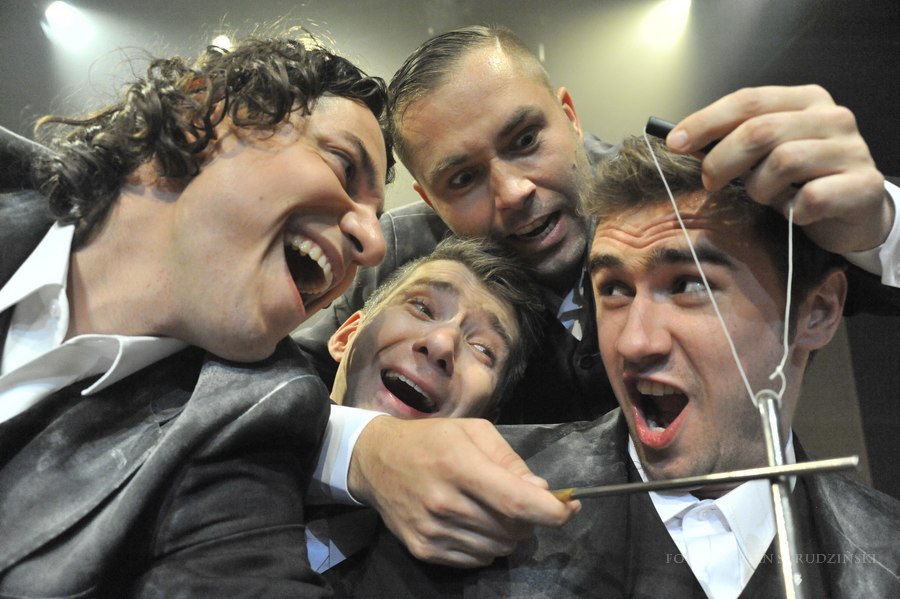 Powszechny Theatre, Radom, Poland
Director: Waldemar Śmigasiewicz
Polish with Hungarian subtitles
1 hours 15 minutes, without breaks.
(On the basis of Witold Gombrowicz's Ferdydurke and Bruno Schulz's Emeryta/Pensioner)
Waldemar Śmigasiewicz, the director and scriptwriter of the play, based his vision of the drama on the following idea: Witold Gombrowicz and Bruno Schulz were close to each other simply by virtue of the fact that they were contemporaries. Furthermore, they shared affinities of thought with regards to their attitudes towards existence. However, they were distant from each other from the perspective of the contexts of their work as writers.
When they make their childhoods the themes of their works, they each do so in a very different, even contradictory manner. In the case of Schultz, childhood represents an escape towards an idealized genesis, which provides a guaranteed refuge from the changes of the times in which he lives as a poet. In the case of Gombrowicz, he seems to be striving to rid himself of "powerlessness, impotence, and immaturity," while he is awakening with considerable distress to the fact that he cannot flee from himself. He will always remain a boorish youngster ceaselessly in search of his lost personality. The Polish theater company has brought these two worlds, which seem to be both merging and colliding, together in an exciting, engaging production.
Színészek/Actors: Magdalena Placek, Łukasz Mazurek, Włodzimierz Mancewicz, Adam Majewski, Robert Mazurek, Jarosław Rabenda, Łukasz Węgrzynowski, Kamil Woźniak, Andrzej Surowiec, Adam Trzos
Díszlet- és jelmeztervező/set and costume designer: Maciej Preyer; Zeneszerző/composer: Mateusz Śmigasiewicz; Dramaturg/dramaturge: Waldemar Śmigasiewicz