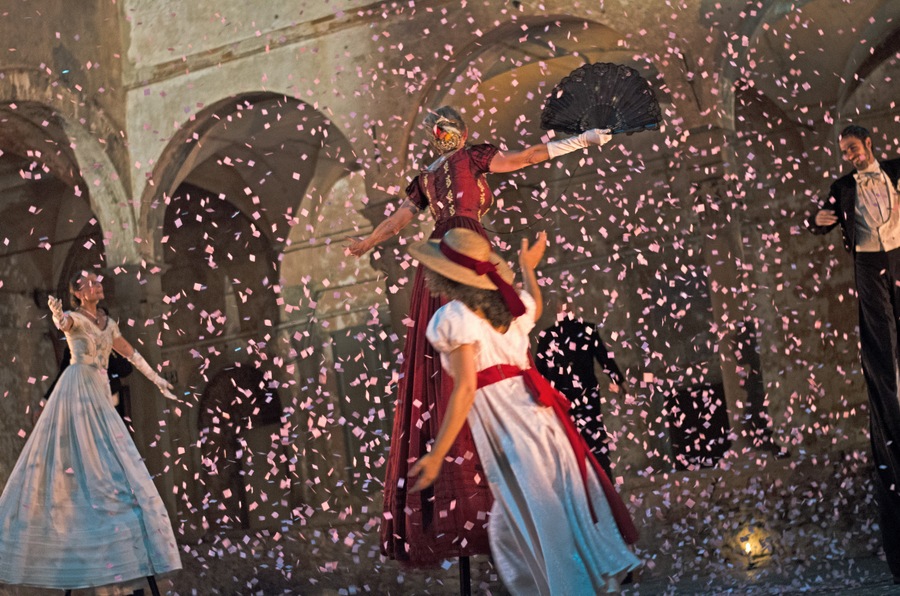 Teatro Tascabile di Bergamo, Bergamo, Italy
Director: Renzo Vescovi
30 minutes.
A street performance on stilts, or perhaps something more? An open-air waltz production, the main character of which is dance and the origins of which lie in European culture.
The waltz as a myth – the myth of finding one another, of dancing forever in endless circles, one movement after the other, tracing perfect circles to the music of the spheres. Since the beginning of time, humankind has revolved around the axis of the universe, which is like a backbone, linking the horizontal to the vertical. One might think of the dance of the whirling dervishes, when the Sufi mystically becomes one with the axis of the universe. At the same time, the waltz as a cultural reflection is a symbol of a form of social contact in our recent past, the traditions of which may have already have been muddied or even washed away by the waters of forgetfulness.
The musical spirit of Austria, which has had an influence on the musical cultures of all of Europe, was captured most succinctly by Maurice Ravel in his composition La Valse: the zenith of anticipation, which we are experiencing right now, is the waltz itself. And what comes next? Only the dancers, in their long tuxedos and splendid tulle dresses, flitting on their stilts in a world that is becoming increasingly desolate, can answer this question.
Cast:
Tiziana Barbiero, Mauro Danesi
Francesco Carrà, Giuseppe Chierichetti
Rosa Da Lima Iannone, Antonietta Fusco
Antonietta Fusco, Ruben Manenti
Caterina Scotti, Alessandro Rigoletti
Geza Pinter, Stefania Locatelli
Scene and cosume: TTB Teatro tascabile di Bergamo