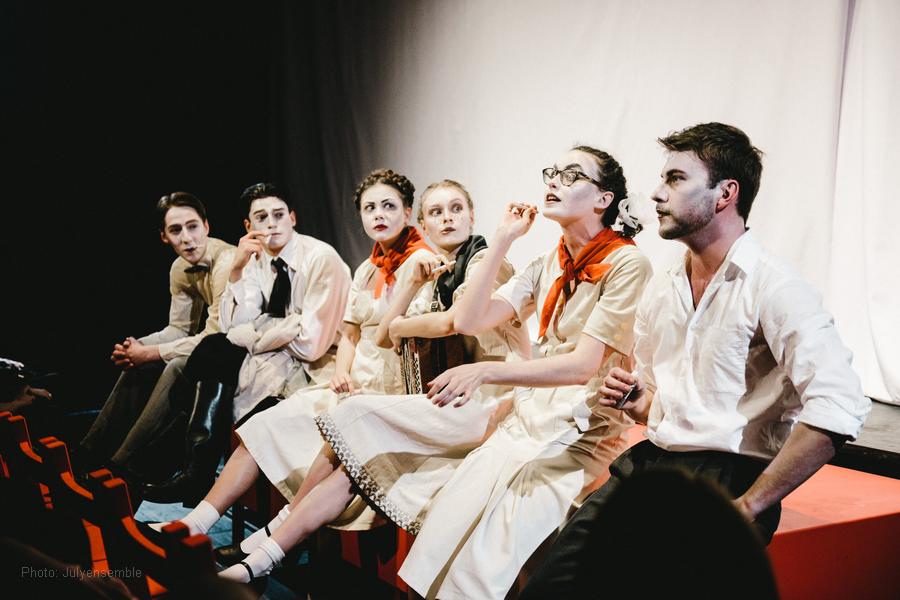 Julyensemble, MHAT 9th Studio, Moscow, Russia
Director: Mikhail Rakhlin
Performed in Russian, with simultaneous interpretation in Hungarian.
1 hours 30 minutes, without breaks.
One of the newest theatrical companies in Russia was set up by Viktor Ryzhakov, class master to the group of young actors and actresses who graduated last year from the Moscow Art Theatre School (MHAT), which was founded by Stanislavsky himself. The so-called "July Group" works within the framework of the Meyerhold Contemporary Art Centre and has gained great popularity among a wide range of audiences. The stylistically distinctive works of Andrei Platonov, a Soviet Russian author in the early 20th century, have been adapted for the stage several times. This production, an adaptation of his most well-known short story, "Fro," is performed in a production by the talented young director Mihail Rahlin.
The title of the play refers to the nickname of the female protagonist, a fragile daydreamer. Like Chekhov's heroes, Fro is searching for happiness, for love fulfilled, in the Russia of the 1920s, which is undergoing radical changes. The style of the production and the actors' interpretation evoke the aesthetics of the Soviet films of the era.
"The way the text is performed is authentic. In those days, this is how people talked, in exactly this manner," says director Mihail Rahlin, who also graduated from MHAT. "No matter how sarcastically we look back on that era, we always feel a certain sense of longing, a certain nostalgia for happiness that remained unfulfilled, for our youth, which can never come back. In those days, as always, people believed, they dreamt, they talked like this. We, the children of a later era, already know the historical context; we know what the future holds for Platonov's characters, but they don't. Not yet."
Actors:
Varvara Feofanova – Fro
Alekszej Kamanyin – Fjodor
Jordan Frye – Natasa
Szergej Sadrin – Father
furthermore:
Roman Vasziljev
Alektyina Tukan
Irina Obrucskova
Sztyepan Azarjan
Artem Dubra
Alexey Ermoskin,
Szergej Novosad
Nikita Yuskov
Stage and costume – Jevgenyij Tyerehov
Choreographer - Anatolij Vojnov
Music: Iszaak Dunajevszkij, Dmitrij Sosztakovics, Gustav Mahler, Zbigniew Preisner, Alekszandr Alekszandrov