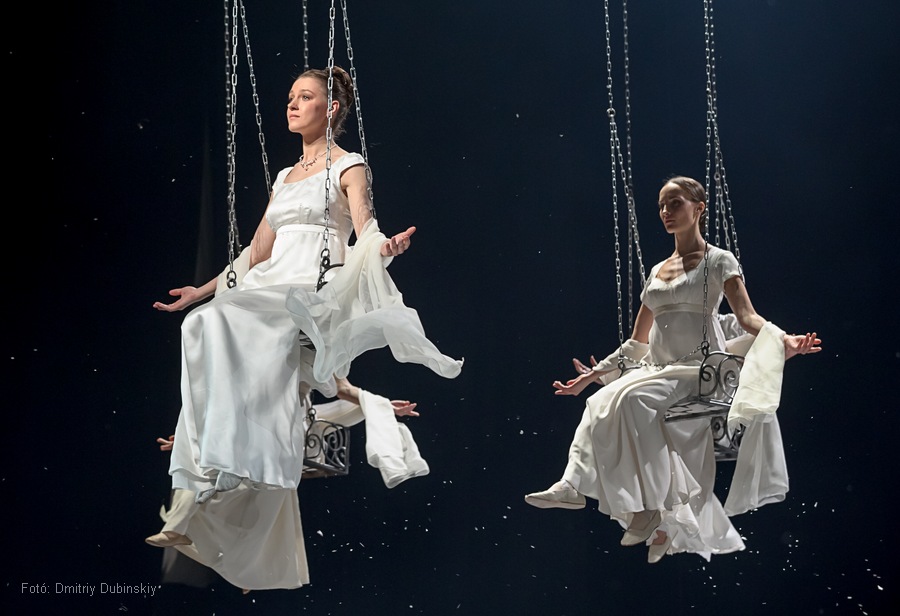 Vakhtangov State Academic Theatre of Russia, Moscow, Russia
Director: Rimas Tuminas
Performed in Russian, with simultaneous interpretation in Hungarian
3 hours 50 minutes with 1 breaks.
Pushkin's most well-known work, the verse novel Eugene Onegin, was referred to, even by his contemporaries, as "the encyclopaedia of Russian life," and it is still considered one of the greatest accomplishments of 19th-century Russian literature and Russian Romanticism. The novel has been interpreted in several ways and adapted in several forms. Tchaikovsky, for example, composed one of his most renowned operas on the basis of Pushkin's novel. It has also been adapted for film and ballet, but few theatrical companies have ever endeavoured to adapt the monumental novel for the stage.
Rimas Tuminas, a remarkable creative mind in both Lithuanian and Russian theatrical life, enjoys working with the texts of Russian classics and considers Pushkin's Onegin a genuine source of inspiration. This is why as artistic director of Vakhtangov State Academic Theatre, one of Russia's most established theatres, he endeavoured both to preserve the mentality of the novel and to come up with a new interpretation: Onegin is, on one hand, the story of an unrequited love; on the other hand, it is a poetic-philosophical confession about the meaning of human life.
"I wanted to avoid stereotypes," the director explains. "Working on Eugene Onegin, I was investigating the symphony of the various layers of its meaning in order to be able to grasp the emotional and musical harmony of this poetic novel."
Eugene Onegin: Sergey Makovetskiy, Aleksei Guskov
Eugene Onegin (The Young): Victor Dobronravov, Eugeny Pilugin, Maksim Sevrinovsky
Retired Hussar: Vladimir Simonov, Artur Ivanov
Vladimir Lensky: Oleg Makarov, Vasily Simonov
Tatyana Larina: Eugenia Kregzhde, Olga Lerman
"Tatyana's Dream": Yulia Borisova, Irina Kupchenko
Olga Larina: Maria Volkova, Natalia Vinokurova
Wanderer with domra: Ekaterina Kramzina, Tatyana Kazuchits
Nanny, dancing master: Liudmila Maksakova
Tutor of the dancing classes: Pavel Tekheda - Kardenas
Girls the dancing class: Anna Antonova, Olga Borovskaya, Anastasia Vasilieva, Natalia Vinokurova, Maria Volkova, Lylya Gaisina (Brik), Eugenia Kregzhde, Polina Kuzminskaya, Olga Lerman, Olga Nemogay, Ekaterina Nesterova, Antonina Papernaya, Ekaterina Simonova, Yana Sobolevskaya, Alexandra Streltsina, Oksana Surkova, Maria Shastina, Adelina Golubenko
Anisya, housekeeper: Anna Antonova, Olga Borovskaya, Yana Sobolevskaya
Larin spouses: Elena Melnikova, Alexei Kuznetsov
Neighbors of Larin family: Vladimir Beldiyan, Ruben Simonov, Dmitry Solomykin, Valery Ushakov, Yury Kraskov, Kirill Rubtsov
Ulan: Dmitry Solomykin, Kirill Rubtsov
"Bunny": Maria Berdinskikh, Maria Rival, Vasilisa Sukhanova
Moscow cousin: Elena Sotnikova
Cousin: Liubov Korneva
Prince: Yury Shlykov
The idea, literary composition and staging: Rimas Tuminas
Set design: Adomas Jacovskis
Costumes: Mariya Danilova
Music: Faustas Latenas
Choreographer: Angelica Cholina
Musical director: Tatiana Agaeva
Lighting Designer: Maya Shavdatuashvili
Make-up artist: Olga Kalyavina
Work with actors: Alexei Kuznetsov
Scenic speech teacher: Susanna Serova
Editor: Elena Knyazeva
Sound Engineers: Vadim Bulikov, Ruslan Knushevitsky
Concertmaster: Natalya Turiyanskaya
Assistant trainee: Gulnaz Balleisova
Assistant Director: Natalya Menyshikova, Nataliya Kuzina