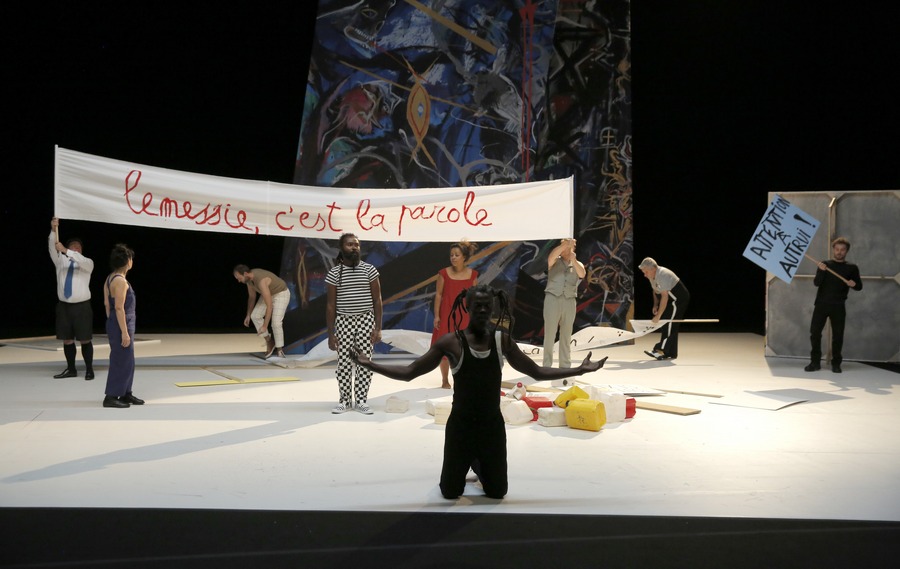 L'Union des contraires, Paris, France
Director: Valère Novarina
Performed in French with Hungarian translation
2 hours 30 minutes, without breaks.
"The Imaginary Animal started as a succession of variations on extracts from previous texts. I have always worked in a circular way by digging deeper and deeper. The variation allows one to 'see things differently'. I go back to old paintings, old pages, to make them confess something. Make them say what they only half said. The greatest mystery of painting is in the repercussion of every single gesture. The path of traces. One new touch of colour can drastically change the whole. The same goes for a written piece. One has to find the acuteness of the words again, their sharpness, which sometimes appear by changing just one syllable. The tiniest move can generate a metamorphosis. A performance is like a forest, shimmering and ever changing. Always 'otherly'." – said Valère Novarina at La Colline Theatre in Paris, about his performance, presented this season.
This revisitation of previous texts enables us to use this guest performance in the MITEM festival also as a field for an exciting attempt: two Hungarian Novarinian actors - Nelli Szűcs and Tibor Mészáros who performed in The Imaginary Operetta, directed by Novarina in Debrecen – will give a live, simultaneous interpretation of The Imaginary Animal. Thus the audience will be able to perceive the unique linguistic universe of Novarina in "another" language, this time Hungarian, through the power of the spoken words.
(Photographer: Pascal Victor)
Actors:
Edouard Baptiste, Julie Kpéré, Manuel Le Lièvre, Dominique Parent, Agnès Sourdillon, Nicolas Struve, René Turquois, Bedfod Valès, Valérie Vinci; Christian Paccoud – Accordion; Elie Hourbeigt, Richard Pierre – The dramaworkers.
Assistant director: Céline Schaeffer; Composer: Christian Paccoud; Set designer: Jean-Baptiste Née; Lighting designer: Joël Hourbeigt; Costume designer: Charlotte Villermet; Associate costume designers: Sylvie Barras, Camille Brangeon, Jocelyne Jalicon; Puppet designers: Charlotte Villermet, Jean-Paul Dewynter; Dramaturg: Roséliane Goldstein, Adélaïde Pralon; Associate musical composer and voice work : Armelle Dumoulin; Assistant to the author: Sidonie Han & Pauline Clermidy; Technical director: Richard Pierre; Light manager: Paul Beaureilles; Stage manager: Elie Hourbeigt; Production, administration and tour managers: Séverine Péan, Emilia Petrakis, Carine Hily / PLATÔ; Set construction: Théâtre de La Colline.
Premiere: 20th September 2019, La Colline – National Theater - Paris
Executive producer: L'Union des contraires
Co-producers: La Colline - Théâtre National, Scène nationale du Sud-Aquitaine

Production supported by the French Ministry of Culture and Communication, the DRAC Île-de-France, the SPEDIDAM, The International Organisation of Francophony, the FOKAL and the company Nous Théâtre.
Special thanks to: Guy Régis Jr., Hélène Lacroix, Philippe Marioge, Collection de l'Art brut, Lausanne