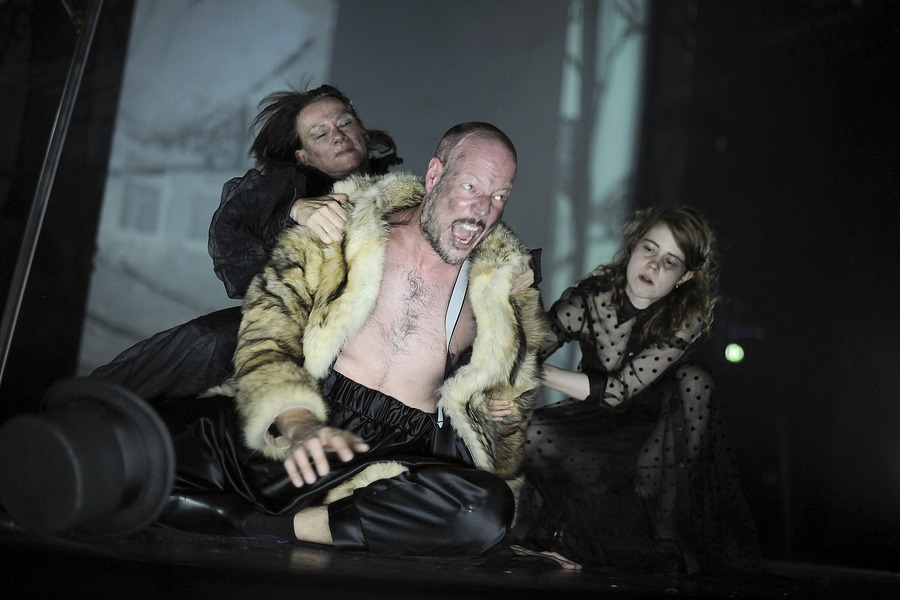 Schauspielhaus Dresden, Dresden, Germany
Director: Sebastian Hartmann
Performed in German with Hungarian translation
1 hours 50 minutes, without breaks.
Raskolnikov, the impoverished hero of Dostoevsky's iconic novel, conceives a peculiar theory: there are average and special people. The latter ones have the right to use the others in order to fulfil their own visions and endeavours, and also the right to kill. Everything must be subordinated to the ideas of "great" people because only they can create something new. Raskolnikov tests his belief in real life: he murders an old pawnbroker woman and, as "collateral damage", her younger sister too.
The terms of the title, crime and punishment reflect the ethical and legal questions raised by the show from Dresden. The nihilist philosophy of Raskolnikov as a long shadow implies the sins of the 20th century. Just like in Harmann's previous Dostoevsky-adaptation (Humiliated and Insulted, which was selected by the Theatertreffen in Berlin as one of the ten best performances), in Crime and Punishment, the director does not follow the linear plot of the novel. What leads up to the killing? How does this act transform the person? – taking Dostoevsky's questions as a base, Hartmann investigates possible motivations and associations.
The actors, the camera, the sound and the light are equal participants of the play, of which only the main points are fixed. The images, the texts and the process of the play are recreated every time from rehearsal materials that have been discussed and tried out. With every performance, a new world is created out of Dostoevsky's fragmented poetic images, and the quest is reformulated: how much do we carry with us and in our world of the Raskolnikov-syndrome.
Actors:
Luise Aschenbrenner, Moritz Kienemann, Philipp Lux, Linda Pöppel, Torsten Ranft, Lukas Rüppel, Fanny Staffa, Nadja Stübiger, Yassin Trabelsi
Live musician: Samuel Wiese
Stage designer: Sebastian Hartmann
Costume designer: Adriana Braga Peretzki
Music: Samuel Wiese
Light design: Lothar Baumgarte
Video und camera: Christian Rabending
Sound assistant: Emily Kuhlmann
Live video mix (VJ): Thomas Schenkel, Diana Stelzer
Painting: Tilo Baumgärtel
Dramaturge: Jörg Bochow